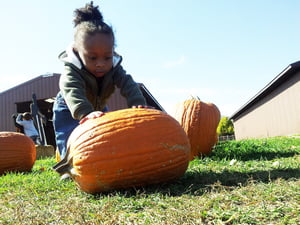 It is hard to believe that September is ending and we are already moving into October. And with that comes shorter days, cooler weather, and perhaps the most important thing—the final stretch in the presidential campaigns. The cost of child care has become a major issue for the 2016 elections, and we are excited to see both candidates addressing the importance of child care both during the debates and as part of their individual child care proposals. This is especially important as we continue to elevate these issues through our Child Care Works movement, designed to improve child care by shifting public opinion, generating policy solutions, and securing legislative victories. We invite you to join us and millions of others as we work together toward policy victories that will make quality, affordable child care a reality for all. Visit childcareworks.org to learn more about this exciting movement and how you can get involved.
Below are some additional highlights from September.
Online and On-Air
The last week in September was a busy one for CCAoA. Lynette M. Fraga, Ph.D., CCAoA's Executive Director and other leading experts in the child care space joined Diane Rehm on NPR to discuss the issues surrounding child care in our country. More than 2.4 million listeners across the country tune in to this award-winning program each week. Listen to the full panel and learn more about the state of child care in America.
CCAoA recently partnered with New America's Better Life Lab, Care.com, and AT Kearney to launch The Care Index and New America Care Report. On September 28, Lynette M. Fraga, Ph.D. and other expert panelists joined both presidential campaigns to talk about one of the biggest issues on the trail—child care. Notable panelists included Anne-Marie Slaughter, foreign policy analyst, political scientist, and public commentator; and Brigid Schulte, Washington Post journalist and author of Overwhelmed: Work, Love, and Play When No One Has the Time. The Index, report, and corresponding event focused on the shortfalls, bright spots, challenges, and opportunities in the U.S. care landscape.
On September 14, CCAoA hosted a webinar with the Center for American Progress (CAP) to highlight CAP's promotion of elevating child care and early learning during the presidential debates. The webinar was moderated by Jay Nichols, CCAoA Director of Federal Policy and Governmental Affairs, and Sarah Baron of CAP. On September 28, CCAoA hosted another webinar with the National Association for the Education of Young Children (NAEYC) to summarize NAEYC's Early Ed for President initiative. The webinar was moderated by Jay Nichols and Lauren Hogan of NAEYC. Watch these and other sessions from our Child Care Works webinar series.
Around the Country
The Parent and Provider Services Team has transitioned all eligible families participating in the Army Fee Assistance Program from the General Services Administration to Child Care Aware® of America. For the most up to date information on the Army Fee Assistance Program, and to interact with other Army families, "like" the Army Fee Assistance at CCAoA Facebook page and follow them on Twitter. Additional information and updates are also available on the Army Fee Assistance website.
On September 27, Bonnie Storm, Senior Director, Exceptional Family Member Program Respite Care, attended the Elizabeth Dole Foundation launch of Hidden Heroes, the nation's response to the military caregiver crisis. The guest speakers were actor Tom Hanks, TV journalist Tom Brokaw, minority leader of the U.S. House of Representatives Nancy Pilosi, Department of Veteran's Affairs Director Robert A. McDonald, Senator Elizabeth Dole, and others. Elizabeth Dole Foundation Fellows, also caregivers of wounded warriors, attended the event. Bonnie also attended a meeting on September 28 focused on empowering hidden heroes, a "convening" co-hosted by the Elizabeth Dole Foundation and the U.S. Department of Veterans Affairs, to address the needs of military and veteran caregivers.
CCAoA has been selected as a Combined Federal Campaign (CFC) charity. This workplace giving opportunity is for federal employees and members of the military. From now through December 30, join us in sharing the news and encouraging your network to select #12300 as their designated charity for 2016!
Member Connections
The Emergency Preparedness Team is pleased to announce that three communities—Child Care Aware® of Kansas, Child Care Aware® of Minnesota, and Child Care Resource Center – Tulsa, Oklahoma—have been selected for an upcoming pilot project, CCR&R Agencies as Resilience Hubs. This two-year funding opportunity is designed to increase the capabilities of child care centers and family child care providers in preparing, responding, and recovering from natural disasters. Learn more about two of the selected communities—Child Care Aware® of Kansas and Child Care Resource Center – Tulsa, Oklahoma—with more information to come on Child Care Aware® of Minnesota.
ICYMI: September in the News
We are pleased to announce the release of a new report covering Child Care Deserts: Developing Solutions to Child Care Supply and Demand. The report, which explores why child care supply and demand is becoming a growing concern, provides insights from parent focus groups, lessons learned, and policy recommendations. Additional information and the full report can be found usa.childcareaware.org/childcaredeserts.
CCAoA is also proud to support new research by Dr. Walter Gilliam, a member of CCAoA's Board of Directors and Director of The Edward Zigler Center in Child Development and Social Policy at Yale University. Dr. Gilliam's latest work is a two-part study that examines the potential role of preschool educators' implicit biases as a viable partial explanation behind disparities in preschool expulsions research. Learn more about this new research on implicit bias in early childhood education.