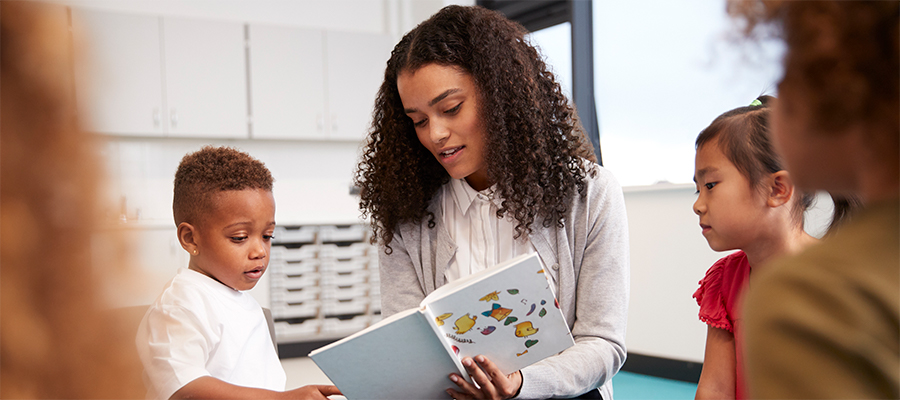 The COVID-19 pandemic continues to highlight the vital role child care plays for millions of children and families, especially for those who work on the front lines of the crisis. Unfortunately, COVID-19 is also underscoring the precariousness of high-quality, affordable and accessible child care – the result of years of underinvestment in the system. 
State policies play an important role in exacerbating or mitigating these factors.
While the pandemic reached states and local communities at different times in Spring 2020, by the end of March many governors released Executive Orders that took one of two approaches to address child care: (1) they allowed child care programs to remain open, or (2) they closed child care programs, except for those that provided emergency care to children of essential workers. Just one state — Rhode Island — suspended child care operations statewide. States have since enacted additional policies to help reduce the number of providers closing their doors and support families in accessing child care as they are called back to work. However, many of these policies are temporary and are not expected to be extended as governors reopen states. There are notable exceptions. Strong state leaders in Illinois, New Mexico and Oregon prioritized child care during the pandemic and have enacted robust policies to support the system that other states should consider replicating. 
This is the final blog post in a four-part series that takes a deeper look at statewide policies that have been enacted throughout the pandemic. (Read parts one, two or four.) As states are reopening, policymakers should consider implementing or permanently extending the policies outlined in this series to support child care. Stakeholders can use these blog posts to learn about creative solutions other states have enacted and advocate for the long-term adoption of similar solutions in their own states. 
State actions that support families who need access to child care
The reality faced by many families is that high-quality child care was out of financial reach, even before the nation was grappling with the current public health and economic crisis. States like Colorado, Maryland and New Jersey have since established emergency child care programs available for essential workers at no charge or reduced cost, regardless of income. Tennessee recently expanded its definition of essential workers as those the state needs to be able to reopen, and extended free child care for all essential workers through mid-August. While more limited than these other states, New York created a child care scholarship for essential workers whose income is less than 300 percent of the federal poverty level. California allocated $50 million for limited free child care for up to 20,000 essential workers.
Another area where states have exercised flexibility to support families is by adjusting policies around co-payments, absent days, and subsidy income eligibility and redetermination. In Pennsylvania, family co-payments have been suspended during the closure period and absences throughout April may not be counted toward the annual 40-day limit. Virginia eliminated co-payments through June for families receiving child care assistance, and Illinois reduced parent co-payments in April and May to just one dollar per month to relieve cost burdens on parents. Nevada put in place a 12-month automatic renewal for eligibility redeterminations for assistance that were due between mid-March and the beginning of June, without any renewal documentation needed from families.
Oregon has been a leader in implementing policies to support families in the child care system during the pandemic; the state has eliminated family co-pays, expanded its absent day policy, and increased the income limit for initial eligibility for assistance, from 185 percent of the Federal Poverty Level (FPL) to 85 percent of the State Median Income or 250 percent of FPL, whichever is higher.
For many families, child care costs consume a large portion of their income. The pandemic has given states flexibility to adjust long-standing policies in ways that make child care more accessible and affordable for families, as outlined above. To put child care within reach for more for families, state leaders must consider extending policies around child absences and redetermination periods that have been relaxed during the emergency, as well as reducing or eliminating family co-pays so that parents and caregivers can get back to work when it is safe to do so.