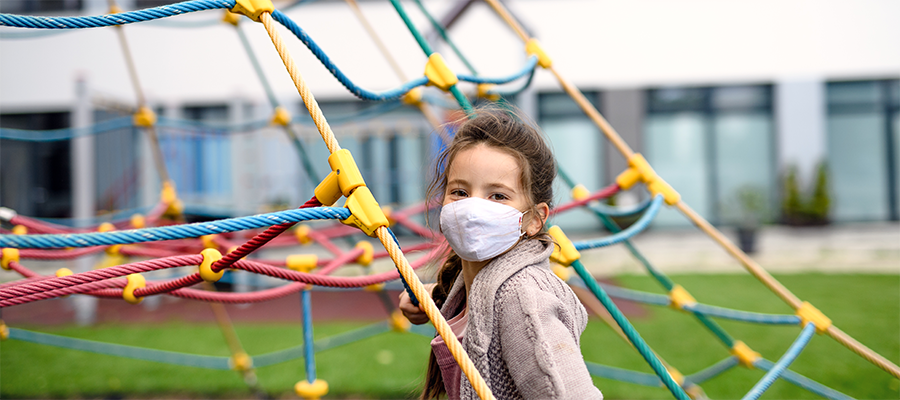 The COVID-19 pandemic continues to highlight the vital role child care plays for millions of children and families, especially for those who work on the front lines of the crisis. Unfortunately, COVID-19 is also underscoring the precariousness of high-quality, affordable, and accessible child care – the result of years of underinvestment in the system.  
State policies play an important role in exacerbating or mitigating these factors.  
While the pandemic reached states and local communities at different times in Spring 2020, by the end of March many governors released Executive Orders that took one of two approaches to address child care: (1) they allowed child care programs to remain open, or (2) they closed child care programs, except for those that provided emergency care to children of essential workers. Just one state — Rhode Island — suspended child care operations statewide. States have since enacted additional policies to help reduce the number of providers closing their doors and support families in accessing child care as they are called back to work. However, many of these policies are temporary and are not expected to be extended as governors reopen states. There are notable exceptions. Strong state leaders in Illinois, New Mexico and Oregon prioritized child care during the pandemic and have enacted robust policies to support the system that other states should consider replicating. 
 This is the second blog post in a four-part series that takes a deeper look at statewide policies that have been enacted throughout the pandemic. (Read parts one, three, or four.) As states are reopening, policymakers should consider implementing or permanently extending the policies outlined in this series to support child care. Stakeholders can use these blog posts to learn about creative solutions other states have enacted and advocate for the long-term adoption of similar solutions in their own states. 
State actions that protect health and safety in child care settings
Understanding that child care providers are currently risking their health and financial stability to provide safe environments for children, states have implemented a range of policies to support the well-being of educators throughout the pandemic. At a minimum, states have developed guidance for early childhood educators on safe practices around face coverings, cleaning and sanitation and parent drop-offs. Almost all states have issued orders mandating or guidance urging child care providers to reduce teacher-to-child ratios and limit class sizes to 10 or under, including staff, such as Alaska has done.
States have enacted additional policies to support the health of child care workers during the public health crisis. Massachusetts, Minnesota, New York and Oregon are prioritizing the child care workforce for COVID-19 testing. West Virginia has requested that all child care workers, whether they have insurance or not, have access to testing so programs can reopen safely. Noting the stress and trauma the pandemic has caused, North Carolina has launched a helpline to connect early child care educators to licensed mental health professionals.
States must make every effort to protect child care environments during the pandemic and beyond by not undoing licensing requirements, an action that would threaten the health and safety of children and staff. In this vein, Iowa has planned to set aside funding to cover the cost of background checks for employees at temporary emergency child care sites. Texas issued guidance that disallows individual waiver requests for background checks, pre-service training and certain immunizations for child care workers.
In addition to specific health and safety supports, several states have increased provider compensation, given the risks and costs associated with providing child care to the families of frontline workers. Both North Carolina and Kentucky have paid providers employed at programs that have stayed open to serve essential workers, with amounts ranging from an additional $300 per month for full-time educators in North Carolina to a $1,500 one-time payment for each child care worker in Kentucky.
New Mexico has been a nationwide leader in its response to supporting the child care workforce on multiple policy fronts. Uninsured child care workers who test positive for COVID-19 can enroll themselves and their family members in the high-risk pool of the state's insurance plan. The state is paying the cost of premiums and waiving deductibles for treatment related to COVID-19. New Mexico is also providing $700 each month in hazard pay to full-time child care workers for the months of April through June.
It has never been more important for states to consider which policies to implement in the long term to support a sustainable child care system. Many of the policies included here provide one-time payments or are in place only during the months of state closures. It is clear that states are overdue in ensuring child care educators are able to earn increased wages and have access to healthcare, pandemic or not. States must build off these temporary policies and assess what other supports are needed to keep the child care system afloat.
The final blog in this series, about Support for Families Seeking Child Care During the Pandemic, will be published on June 25, 2020.