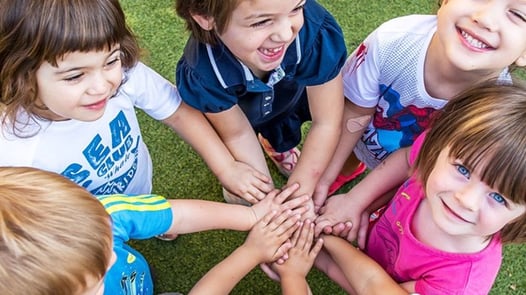 Child Care Aware® of America's (CCAoA) recent report, Catalyzing Growth, shares details of the continuing decline in the supply of home-based child care (HBCC) options for families. HBCC providers have long faced burn out, low wages and a lack of benefits. When coupled with the effects of the recent global health pandemic, these factors have strained their capacity. HBCC providers need continued support and targeted strategies, aimed at combatting these long-standing industry challenges while ensuring that they feel valued and have the tools to offer high-quality child care while maintaining a successful and profitable business.
The US Government Accountability Office (GAO) released a report confirming that Staffed Family Child Care Networks (SFCCNs) are necessary and vital to the continued support of HBCC and are a successful strategy in "helping to manage and enhance the quality of their business." Beginning in early 2023, CCAoA offered a Community of Practice (CoP), Family Child Care CCR&R Promising Practices, with a core group of early childhood practitioners from Child Care Resource and Referral agencies (CCR&Rs) across the country. This professional learning community was established to bring members together in a professional and facilitated group setting and to further explore using SFCCNs as a quality improvement strategy for HBCC providers.
Throughout this opportunity, CCAoA worked with five CCR&Rs who were able to support HBCC providers by responding to their unique professional needs through creating and launching SFCCNs. Additionally, through this effort, a variety of resources were developed to support CCR&Rs with their work establishing or maintaining SFCCNs. You can access these resources and several blogs supporting the benefits of implementing SFCCNs, by clicking on the "Home-Based Child Care Supports" tab found here.
This CoP was also designed to assist those CCR&Rs providing resources to HBCC providers in response to needs tied to emergency preparedness, multi-layer disaster response, the COVID-19 pandemic and/or mental health. It was built around the concept that a strong community, such as SFCCNs, has many benefits and can be central to the ability and success to adapt and recover, following hardship such as a disaster or the recent pandemic. Considered a proactive approach, healthy productive communities can protect themselves against hazards, build self-sufficiency and become more sustainable. As an integral part of their communities, HBCC providers can find the necessary support and opportunity within their SFCCNs, acting as an effective long-term strategy to continue offering a valuable and quality child care option for families, even in the face of disasters.
This led CCR&Rs to create intentional plans to build SFCCNs designed to encourage and cultivate long-term resiliency and champion HBCC providers when they needed it most. Like many in the child care field, HBCC providers have been left in need of an additional layer of support following the COVID-19 pandemic. The CoP CCR&Rs used their newly launched SFCCNs as a comprehensive approach to offer this much -needed support. They worked to provide new opportunities designed to uplift and connect providers - rejuvenating energy, restoring hope, and fostering the value and longevity of these HBCC providers. In addition, while offering many multi-tiered benefits to support both recruitment and retention, fair compensation, and stronger business practices, SFCCNs can offer additional organized support. Some examples of this supports include data collection, professional development, technical assistance, networking, and peer-to-peer, mentorship, and self-care opportunities.
The following testimonials and media coverage are from two states that worked with CCAoA throughout the CoP. They increased support to HBCC providers in their service delivery areas by creating and launching SFCCNs and tailoring these networks to offer supports and services to meet the unique needs of their HBCC providers.
Oklahoma Partnership for School Readiness
When we were tasked with the responsibility of launching the Staffed Family Child Care Network, questions continually swirled through our minds. What does this look like? What steps do we need to take? How do we make the launch successful? How do we know what the Family Child Care Home providers need/want? Will we be able to meet their needs? At times, there were more questions than answers. Being a part of the CoP with CCAoA allowed us to brainstorm answers, find encouragement and create relationships with other agencies with like-minded vision. With the support of CCAoA, we were able to take a vast vision and break it into small, doable steps.
Our Family Child Care Homes closed at a higher rate during the COVID pandemic. They needed support to help stabilize our economy, get parents and guardians back to work, and to hopefully end Oklahoma being a child care desert. By creating the SFCCN, Oklahoma has shown home-based providers that they are loved, cared about by all levels, and valued. Oklahoma needs them to help the state thrive.
OPSR, the Oklahoma CCR&R, held Joyful Journeys, a one-day training conference that was the first event held for Family Child Care Providers. The training was about joy, both in themselves and in their homes. The goal was to spoil them, with great speakers, food and resources. We wanted them to feel the love and support for one day that they should feel year-round with the SFCC Network.
Ohio: Action for Children
The opportunity to be a part of CCAoA's Promising Practices CoP was both an enriching and elevating experience for the development of our Staffed Family Child Care Network, The Village. Taking on the immense task of creating (and then launching) a network for family child care professionals, without first being a part of a well-established child care network community, is unrealistic. High-quality early education and development of young children requires a strong web of support from every point of service, including high-quality education and development of early educators.  That is what the CCAoA CoP provided to Action for Children, and our SFCCN, The Village. We were given a place to share, learn and grow together under the same purposeful umbrella of connection. Thank you!
What is...The Village at Action for Children?

With generous support from the Center for Disaster Philanthropy (CDP), CCAoA was able to help CCR&Rs and enhance their ability to adapt their services and/or to work in partnership with others supporting HBCC providers by implementing SFCCNs. CDP mobilizes philanthropy to strengthen communities' ability to withstand disasters and recover equitably when they occur. It provides expert advice and resources while managing domestic and international disaster funds on behalf of corporations, foundations and individuals through targeted, holistic and localized grantmaking. Find out more at disasterphilanthropy.org.
The Child Care Systems Building team at Child Care Aware® of America develops technical assistance resources for Child Care Resource and Referral agencies (CCR&Rs) and other systems-level leaders, about business practices, staffed family child care networks, equity practices and other topics. If you need additional help, we invite you to request personalized support from our technical assistance teams by filling out this form.