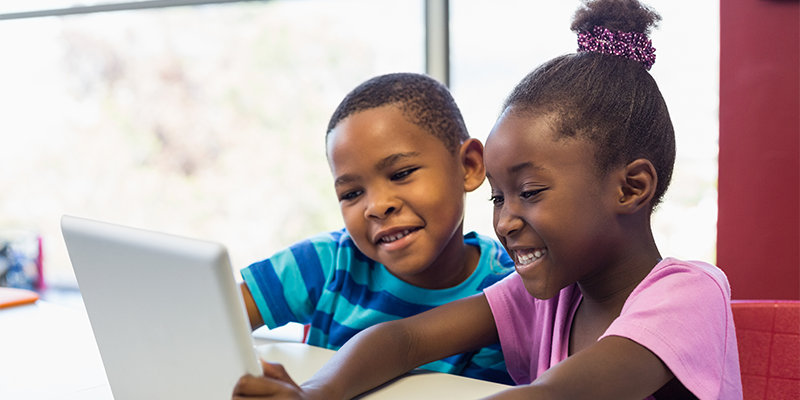 Associations Between Screen-Based Media Use and Brain White Matter Integrity in Preschool-Aged Children Hutton, J.S., Dudley, J., Horowitz-Kraus, T., DeWitt, T., and Holland, S.K. JAMA Pediatrics (November 2019).
Background: Many children under age 6 regularly spend time in front of TVs, computers and digital devices. Research shows that too much screen time at an early age can affect children's behavior and cognitive development. The American Academy of Pediatrics (AAP) recommends limiting screen time, viewing along with adults, and accessing only educational, developmentally-appropriate content. This study looks at the connection between screen time and development in the parts of the brain responsible for language and literacy.
Methods: A group of 47 health children ages 3 to 5 participated in this study. Their parents completed a survey about the child's screen time habits (e.g., how often they used or watched devices with screen, the type of content viewed and whether adults watched with them). The children took language and vocabulary tests to assess their cognitive and early literacy skills, and also went through brain imagining to see how their brains were developing.
Results: Children who had more exposure to screen time than AAP recommends had lower scores for early literacy, phonological processing (connecting sounds to letters) and expressive vocabulary (words the child can produce). Higher screen time scores were also associated with weaker connections and less organization in the parts of the brain that control language, executive functioning and early literacy.
Conclusions: The findings suggest that exposure to more screen time may affect development of the language and literacy centers of a child's brain. This could be due to the screens themselves or to screen time taking the place of other important adult-child interactions like reading or having conversations. Additional research is necessary to better understand the connections between screen time and early brain development.
Practice Implications
The authors of this paper suggest that the connection between screen time and brain development may be due to screen time taking the place of other activities and interactions with adults. Child care providers should limit the amount of time children in their program spend in front of screens and focus on reading, playing and talking to children. When providers do use screen media in lessons, they should make sure that the content is educational and interactive. That means providers should be watching along with children, talking to them about what they see and using that as a jumping off point for additional conversation and exploration once screen time ends. Providers should also share information about screen time recommendations with families, along with alternate activities to take the place of screen time.
Policy Implications
Every child care program should have a screen time policy that outlines how TV or digital devices will be used. These policies should follow national standards for screen time in child care, including no screen time for children under age two and limited screen time for children over two. At the same time, states should put screen time policies in place that line up with national standards. Studies like this one show that young children are getting a lot of exposure to screen time at home, so it makes sense to set limits for screen time in child care. But policies alone may not be enough to change provider practices. States should also fund strong training and technical assistance systems that can support providers in cutting back on screen time and incorporating technology into their work in a way that enhances learning and does not detract from other critical activities and interactions.