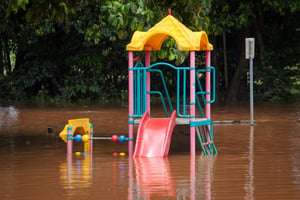 Flooding is one of the leading causes of severe weather related deaths. According to the National Severe Storms Laboratory, floods kill more people each year than tornadoes, hurricanes or lightning. Flooding causes an average of $5 billion a year in damage, making it the most costly severe weather event.
To recover from flooding events, follow these 5 steps:
Air Out - open all doors and windows to allow for air flow.
Move Out - remove items that you can salvage, also remove those items that are too soaked to save, such as mattresses or furniture.
Tear Out - remove all wet carpeting, flooring, insulation and saturated drywall.
Clean Out - clean out any remaining items, also clean for mold
Dry Out - use fans, dehumidifiers, etc. to dry out the home. This process can take up to 4 to 6 weeks to complete.
For additional information on these five steps, read FEMA's Initial Restoration for Flooded Buildings
After the Flood
Flood water is dirty and may contain raw sewage, dirt, and germs.
Be careful! Most injuries after a flood are caused by slips, trips and falls. Ensure you have proper footwear that reduces the likelihood of slipping.
If you have open cuts or scrapes, take care to cover them before entering flooded areas, as contact with flood water may lead to infection. You should clean all cuts and open wounds with soap and water immediately after contact with flood waters.
Flood waters may hide dangerous conditions, such as nails - be sure you are up to date on your tetanus vaccination. It is recommended that adults receive a tetanus booster every 10 years.
Flooding may have compromised the local water systems - it may be necessary to boil your water or use bottled water.
Throw away food that has come into contact with flood waters.
Considerations for Children
If a boil water order is issued, it is recommended that you breastfeed or use bottled water to make formula.
Children are lower to the ground than adults, they can be impacted by chemicals and hazardous substances more quickly than adults.
Flood water can be dirty and hazardous. It can even include sewage. Be careful about letting children crawl on the ground before an area impacted by a flood has been cleaned up.
Children love to put toys into their mouths. It is important to be sure that toys are cleaned, especially toys that may have been in contact with flood water.
Mold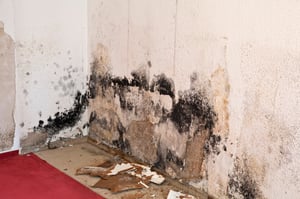 Mold can begin to grow on surfaces that remain wet for 24 or more hours. This includes carpet, drywall, furniture, clothing, etc.
You should assume that you have mold if your home was wet for 24 hours or more.
To get rid of mold you need to stop/remove water from entering the home, dry the home completely and remove the mold.
Mold is not healthy and children should stay away from mold.
Exposure to mold can cause reactions, including asthma attacks, sneezing, itchy eyes, stuffy nose and even watery eyes).
It is recommended that the clean up be complete before children are allowed back into the home.
Learn more: