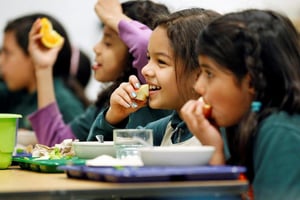 Access to food is a critical part of disaster response and recovery. The United States Department of Agriculture (USDA) is part of the national response network and provides Disaster Supplemental Nutrition Assistance Program (D-SNAP) benefits to those with low to moderate incomes (who typically do not qualify for food assistance support) based on disaster-related expenses like loss of income from time off or relocation, property damage, relocation costs, and other expenses.
D-SNAP benefits provide short, one month food benefits via EBT cards that can be used at major grocery stores. Affected households use shortened applications for D-SNAP that have a 72-hour turnaround for benefit issue. Benefits are issued at the maximum monthly SNAP benefit.
Families that are already eligible for SNAP benefits do not need to apply for D-SNAP; they are already eligible. If a family does not receive the maximum amount of SNAP benefits, they can request a supplement during disasters that will raise their benefit to the maximum amount.
Disaster survivors can apply for D-SNAP at specified sites in their communities; each state will announce sites through the press and typically on their SNAP agency websites.
Some states, like Louisiana, encourage preregistration for D-SNAP. This makes it easier to for the state to issue benefits when disaster strikes—meaning benefits are in the hands of those who need them faster. Preregistration is also important because households may not have required income information during rescue and recovery periods. Preregistration details vary from state to state, so check with your state or local benefits office for more information on how to preregister.
Louisiana is currently taking applications for D-SNAP in response to the recent flooding in Baton Rouge. For more information on D-SNAP in Louisiana, visit the Department of Children and Family Services webpage.