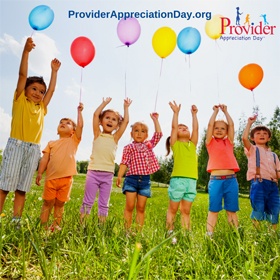 Child care providers have a deep and resounding impact on the children and the families they serve. This Provider Appreciation Day, we asked parents to send in stories about the early learning professionals in their children's lives and the positive impact they have had on their family. The responses were overwhelming. Below we've highlighted a few to share with you today, as we celebrate and honor the teachers that care for our youngest learners.
"I really enjoy Scaife Day Care. They have been providing my son with great care since he has been three months and now he is five years of age." –Crystal Davis, Milwaukee, WI
"I would like to thank, recognize and express sincere gratitude for the care my daughter, and family as a whole receives from Mercy Cares for Kids, especially the staff in Infant 2, Karan, Alketa and Leah. These ladies take care of my child as if she were their own while I am at work, they take on the duties of 'mommyhood' and the respect, care and comfort they provide to me and my daughter is exceptional. Every day is planned with social, educational and developmental information. Taking on the task of playing a large role in raising someone else's child is neither something that is easy to do, nor a job for everyone. It takes a special person to be respectful, competent and devoted to young children. My appreciation for the care they provide to my family could never be expressed through words, and in attending events and functions at the site, it is evident that the entire center encompasses these wonderful traits." – Julianne Brown, Albany, NY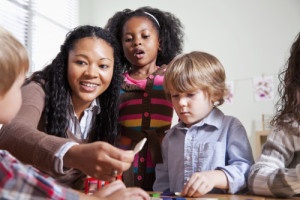 "I love [Cozy Care] and their values. When the owner Traci Poellnitz, told me how the nursery and daycare is about EDUCATION I couldn't believe myself. I thought wow... these preschoolers are learning Arabic! I'm all about education so when I heard what they do, I thought, this is a no-brainer." –Alex Spencer, Cincinnati, OH
"When my son was born, I spent the first year of his life being a stay at home mom. It was amazing and I loved every day of it! However, I did have to return to teaching the following year. It was very hard for me to leave my son. He started off at an in home daycare. Things just weren't working out. Communication was horrible, and my son did not have a daytime routine/schedule. This is when my husband and I decided to try him at a learning center. We were VERY nervous at first. We didn't know what to expect, and we didn't know how our son would adjust. Well, it's been almost 5 months now and we couldn't be happier!! My son is receiving EXCEPTIONAL care at Fundamentals Early Learning Center, and is learning new things every day! He absolutely loves his teacher and all of his classmates. We spent all of last week on vacation, and all he talked about was his teacher back at school and his classmates. This made my husband and I extremely happy! We are so proud and thankful to be a part of the Fundamentals family! We appreciate them!! " –Whitney Lewis, Central Louisiana
On Family Circle Learning Center…
"Best child care my husband and I have experienced. The teachers are great with the kids. We trust that our babies are well taken care of away from us!! Thank you for loving our babies as much as we do." –Sherri Armendariz, Renton, WA
"I write a testimonial every year. Lenora is a fantastic provider for all the children she cares for. I am going on my eighth year with my children in her care. Tomorrow she is taking them to the strawberry patch. She always does fun and education trips with the kids, so it makes it a special time for them to look back at when they are older.
Thanks so much for all that you do Lenora. You are appreciated more than you know. I (and my family) would not have made it the past 8 years without you!" –Holly Price, Durham, NC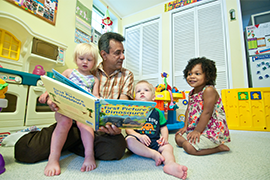 Quality child care providers are education professionals. Working families get peace-of-mind when they know their child is in the care of a trusted, quality provider. They are an integral part of a family's support system. This Provider Appreciation Day, we urge you to not only celebrate the early educators in your life, but also to remember that their training and professional development directly impact the quality of care they are able to provide. It's time to create a quality child care system that works for families and providers and pays a living wage to our child care professionals.