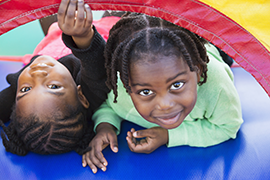 Last week PBS NewsHour aired a story about child care and featured three families whose stories represent millions of others in the United States today; the story of families who find it is sometimes more affordable not to work, than to pay for child care, and the quality of child care they can afford.
I sat down with PBS NewsHour for the broadcast as well. We are often contacted for comments, facts and history on the rising costs of child care - but few stories capture the real point behind our Cost of Care reports; that child care is an economic and education issue that affects everyone.
The cost of child care is certainly financial news, but more importantly the cost of child care highlights how our nation's child care system is preventing families from working because it's simply too expensive and families don't often know what they're really getting for that price. Instead of a child care system that empowers families to make a better life for them and their children, we have a child care system that is fragmented and frankly, in too many cases, simply unsafe.
This summer, CCAoA will release its annual Child Care in America State Fact Sheets. These reports lay bare the numbers beyond cost - availability, how families pay for child care, what states pay to subsidize child care and many more facts about working families today. We look forward to the dialogue.
Meanwhile, what did you think of the PBS NewsHour broadcast? Watch, then comment below.