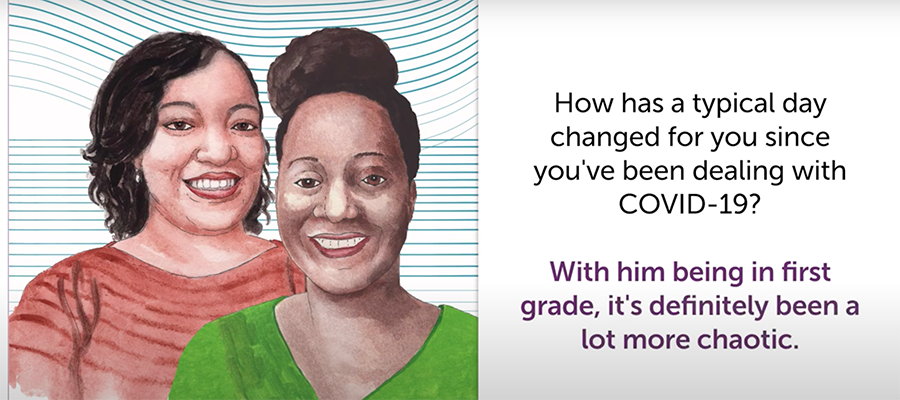 Before the COVID-19 pandemic, the child care system in the United States was already fragile and underfunded. The U.S. spends less than 0.5% of GDP on child care, which is far lower than the majority of developed countries.
In addition, children of color and children from low-income families are less likely to be enrolled in high-quality child care programs. Child care staff are undervalued and underpaid, and female caregivers, especially women of color, bear the brunt of formal and informal care.
Over the last year, in partnership with the Robert Wood Johnson Foundation and Child Care Aware® of America, StoryCorps recorded conversations with families who rely on child care, as well as child care providers, to understand how COVID-19 has impacted the child care industry, families and society at large. StoryCorps' mission is to preserve and share humanity's stories in order to build connections between people and create a more just and compassionate world.
The project was part of a larger effort by StoryCorps in partnership with RWJF. StoryCorps recorded conversations with dozens of families and individuals across the country, including child care providers, families, grandfamilies and new mothers who shared their experiences of living during COVID-19, talking about their fears, challenges and strategies to overcome barriers to basic needs and good health. In addition to CCAoA, StoryCorps worked with Generations United and the National WIC Association.
The stories spotlight the stigma and disparities in our society and inspire us to think about how we can better support families through equitable policies and systems. The health of our nation depends upon the health and well-being of our children and families. All families, no matter their background, should have the resources they need to raise healthy, thriving children, starting at the earliest ages.
You can listen to the child care stories on the CCAoA website.
Brittany and Pamela
Brittany Marks, a teacher, talks with her friend Pamela Maxey about her experiences with her son in child care when Brittany was a young student, and again now during the COVID-19 pandemic.
Caroline and Daniel
Caroline Reyes talks with her husband Daniel about starting their lives together as a young couple, opening a bilingual child care center, and how COVID-19 has impacted their work.
Jennie and Jennifer
Jennie Dalgas and her colleague Jennifer Mickelson reflect on the impact of COVID-19 on child care programs, and the lack of options for families with programs closing.

Jerletha and Valora
Jerletha McDonald, a child care provider, talks with her mentor, Valora Washington, about her experiences as a child care provider, and as an advocate for women of color working in the early childhood education field.
You can also find these stories, as well as the Generations United and National WIC Association interviews, on RWJF's "Every Family Forward" website. The site is dedicated to sharing the experiences of families and caregivers, along with the children they care for. Many of these families draw from a wide variety of assets in raising their children: a shared sense of optimism about the future or strong connections to family and friends. But many also are striving to overcome significant barriers to health, barriers that have been in place for generations.