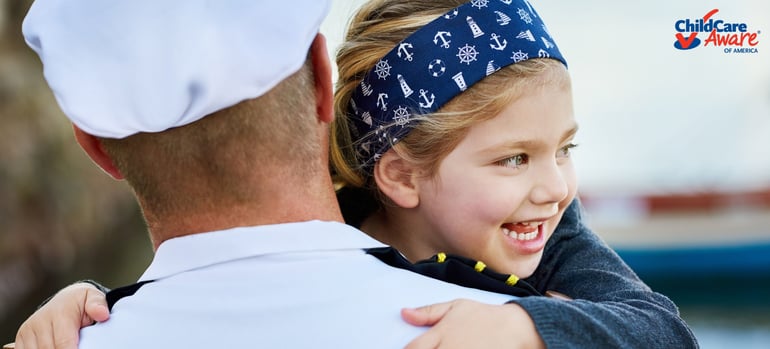 "Our child care provider is like part of our family." This is what many Navy families have shared about their respite child care provider over the last 15 years since the inception of the Navy Exceptional Family Member (EFM) Respite Care Program. Since 2008, Commander, Navy Installations Command (CNIC) Child & Youth Programs has contracted with Child Care Aware® of America (CCAoA) to administer EFM Respite Care, a no-cost benefit program that offers 40 hours of respite care per month to eligible Navy families.
EFM Respite Care offers short-term respite care breaks to Navy families who have a child with special needs. Although the program has experienced changes over the years, the respite child care providers have been the constant that keeps families moving forward in so many aspects of their lives.
A Navy family from California stated:
"I could not be successful in my Navy career, as a single sailor, without the Navy EFM Respite Care program. My child's needs were met, and we both thrived because of the availability of an important element of our extended family: our respite care provider!"
A Hawaii-based Navy family shared with us:
"Our Respite Providers have all been instrumental to the growth and development of our daughter and our family. They always are so engaging with her while giving us (parents) a break every month."
One Navy family from Florida told us:
"Our respite care provider…is a blessing to our family and deserves the best her company has to offer her. I can only hope she hears word of the love and appreciation that we have always had for her. She is like family to us, and we trust her with the most valuable parts of our lives, our children."
Military life can be transient, taking families from coast to coast or even overseas. Navy families anticipate a Permanent Change of Station (PCS) move every several years, which is common in military life. Families have shared that transitioning to a new location where they do not have extended family can be challenging. Reestablishing services for their family such as doctors, schools, therapies, etc., can add additional pressure to an already stressful situation. These changes make the added support a respite care provider can offer even more important for military families.
One family in California shared this experience:
"As an active duty [N]avy family, we move often and don't always have a support network. Respit[e] Care provides me as a milspouse the help I need to make sure that everything is taken care of on the home front. In addition, it provides my husband and me the opportunity to get away from time to time, spend time together and just take a breather."
In addition, deployment and sea duty are components of Navy life. The sailor is away from their family, leaving the spouse, significant other or designated guardian of their child to manage the household in their absence. Fortunately, EFM Respite Care providers continue to rise to the occasion for these Navy families.
A Navy family in North Carolina shared:
"The EFM Respite Care Program is very beneficial. It provides the parents with a break, especially when the spouse is deployed, and you don't have any other care for your special needs child. It helped me stay sane during COVID when my spouse was deployed. I was teleworking full-time, and my two children were at home with m[e] 24/7. Without Respite Care, I don't know how I would have gotten through that 10-month deployment."
Not only is respite care a benefit to the sailor's family, but it also provides the sailor peace of mind knowing their family is getting the support they need while they are deployed, as stated by this Navy family from California:
"The EFM program has been instrumental in ensuring my spouse gets the time off that she needs to rejuvenate and take care of herself, especially when I'm away on deployment. We really appreciate and take advantage of this great program."
Another Navy family from Washington shared the following praise:
"The care and respite provided by my single caregiver is invaluable to us as a family…The program is also a peace of mind for me, as the active duty sailor, that when I am gone my spouse can have time to himself to also connect and recharge as the 'single-parent'."
EFM Respite Care families share their praise and experiences with their respite child care providers. The dedication and commitment that respite child care providers have when they support Navy families and their children is steadfast. A Navy family from California summarizes their experience:
"I can't imagine where my family and I would be without this program. This program came to us right after my husband left for deployment. I was overwhelmed and uncertain of what and how I was going to get through the next 7 months after getting our son's diagnosis. Our care providers have been so supportive, loving and compassionate to our family. They are an extension of our family."
A Navy family from Maryland shared this about their provider:
"Our caregiver is so wonderful with our son and helps him feel nurtured and cared about/for. We love having her in our home and with our children."
Over the years, Navy EFM Respite Care families have noted how the program and their providers made significant impacts on their lives. Some sailors shared that knowing their family had support at home weighed into their decision regarding their career. The two comments below capture the importance of how having quality respite child care providers in their lives meant so much.
A Navy family from Washington says it all:
"My respite care provider has been with the family for over 10 years. We have been a part of this program since the very beginning. Having respite has benefited the quality of mental health in our family for the better. Having someone come in who's fresh, not worn out, and is able to be positive and have the energy and the patience when I'm burned out [and] I need a break is a comfort."
A sailor in Hawaii shares his experience:
"I have been in the Navy for 20 years. Without respite care, I would have separated from the Navy years ago. Having care providers that are funded by the Navy who provide quality care for my children has absolutely enabled me to better serve my country and be a better husband and father. Respite care is one of the top three most influential benefits I have received during my career, and I cannot express how grateful I am to the Navy for funding this program."
These comments from Navy families highlight the critical support and care these trusted providers offer Navy families. The relationship families develop with their provider, as well as the bond the provider creates with their child, cannot be highlighted enough, as emphasized in their comments. As we approach Provider Appreciation Day on May 12, 2023, we invite you to share your gratitude for the child care providers in your life. Visit: www.providerappreciationday.org to learn more.