Provider Appreciation Day® is an annual celebration of the important work that child care providers do every day in communities across the country, and in 2022 it falls on Friday, May 6. Last year's celebrations of Provider Appreciation Day® included recognitions by elected officials at all levels, including Governors, Members of Congress, and local leaders.
A proclamation that recognizes the work of child care providers is a great way to show appreciation for the vital role they play for so many families and bring more awareness to their importance in your community.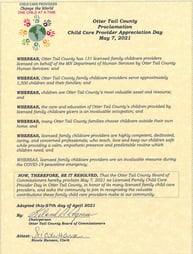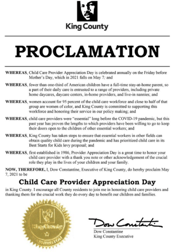 Last year, proclamations were issued by numerous communities across the
United States, including Otter Tail County in Minnesota and King County in Washington.
In fact, in Washington last year, Governor Inslee coordinated the signing of legislation to make child care more affordable and accessible in the state to fall on Provider Appreciation Day, and he turned the event into a virtual celebration of child care providers.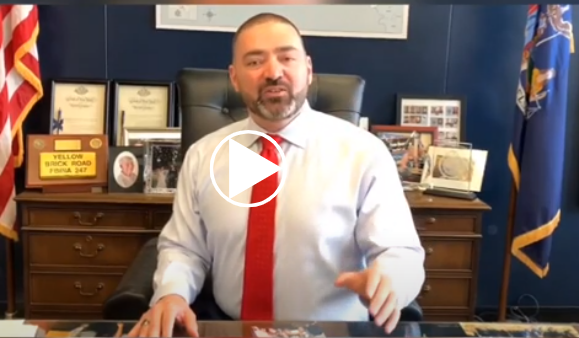 Senator Fred Akshar of New York shared his support for Provider Appreciation Day 2021 in a video compilation organized by the Family Enrichment Network in New York.
If you would like to have Provider Appreciation Day officially recognized in your community, you can request a proclamation using these steps:
If you don't know the local leaders in your city or county, or just aren't sure how to get in touch, you can use CCAoA's

Find Your Legislator

tool to find their names and contact information.

Reach out to your policymakers about Provider Appreciation Day®, and share the providerappreciation.org site which includes a sample proclamation.

Share this blog with others in your community who

a

s

passionate about the importance of

child care

so your local leaders know the importance of recognizing local

child care

providers.

Be sure to share local proclamations on social media

and use the e

vent hashtag #ThankYouChildCare

.
We have also created a way to submit these proclamation requests quickly and easily through our digital action center. By clicking on the button below, you can send a pre-written message to your local officials in less than a minute.
You can find even more resources to help celebrate in your community by officially becoming a supporter of Provider Appreciation Day. We can't wait to see the celebrations of the important work that child care providers do in their communities.