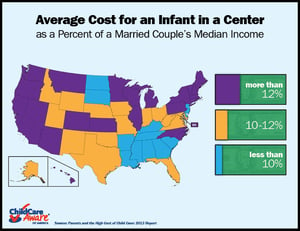 Child care is unaffordable for many families. The costs leave children in questionable environments that can have long-term consequences for them and for our nation's future.
We explore and analyze these costs in our annual report, released today, Parents and the High Cost of Child Care: 2013 Report. The report lays out the cost of child care by state, region and age ranges and explores why child care is so expensive as well as recommendations to improve child care in the United States.
This is our seventh report on the cost of child care, and while the story has not changed, the need for change has. Here's why:
Child care influences early development.
Breakthrough research tells us the early years are a unique period of development and that early experiences form the foundation for future success.
Child care is early education.
Children who start kindergarten behind too often stay behind. Among children who arrive at school without the skills needed for success, over 85 percent are still behind in 4th grade.
Child care is a national security imperative.
Fully 75 percent of 18-year-olds are not qualified to serve their country through military service. To address this national security issue, military leaders have identified the need for quality early care and education for all children as a top priority to ensure children get off to the right start.
Child care is an economic imperative.
Dr. James J. Heckman, Nobel Laureate in Economics and professor of economics at the University of Chicago concluded after decades of research on labor economics:
"The real question is how to use available funds wisely. The best evidence supports the policy prescription: Invest in the very young."
We recognize this report asks difficult questions about child care. But ask them we must: How can quality child care be made affordable for all families? What can we do as a national community to invest in the 11 million children who may need child care programs? This report will help inform the important conversations ahead.
Visit www.usa.childcareaware.org/costofcare to view the full report, Parents and the High Cost of Child Care: 2013 Report.
We thank the Child Care Resource & Referral Agencies who provide data to build this report. Without their support, this publication would not be possible. Learn more about CCR&Rs.