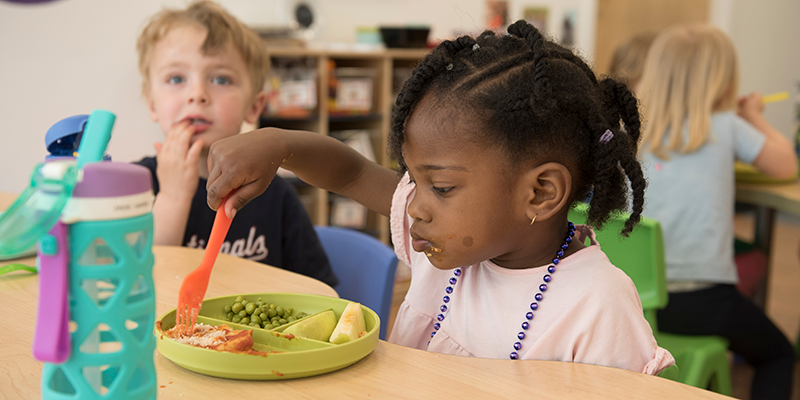 Added Sugars Intake among US Infants and Toddlers
Herrick, K.A., Fryar, C.D., Hamner, H.C., Park, S., and Ogden, C.L. Journal of the Academy of Nutrition and Dietetics (January 2020).
Background: Eating and drinking foods with added sugars has been associated with several health conditions including asthma, obesity, dental cavities and high blood pressure in children. The current national guidelines for nutrition only provide recommendations for people over the age of 2. This study looks at added sugar consumption rates among infants and toddlers by race, age, sex and family education and income level.
Methods: The caregivers of 1,211 infants and toddlers completed a national survey about health behaviors. In a separate interview, they described what children ate and drank in a 24-hour period. The children also had physical exams in a doctor's office. The information was collected within three cycles – 2011-2012, 2013-2014 and 2015-2016, each time with a different set of children.
Results: About 60% of infants and 98% of toddlers ate or drank added sugars on any given day. African-American toddlers consumed more added sugars (8.2 teaspoons per day) than their peers who were Asian (3.7 teaspoons), Caucasian (5.3 teaspoons) or Hispanic (5.9 teaspoons). There were no differences in sugar consumption by sex or by family income or education level. The most common sources of added sugar were yogurts, bakery products and fruit drinks.
Conclusions: This study examined a representative sample of infants and toddlers living in the U.S. and looked at differences in how much added sugar they consume. The findings about current patterns of added sugar consumption may be useful for public health organizations as they look to develop practical guidelines for added sugar consumption in this age group.
Practice Implications
In addition to the health risks described above, eating and drinking too much sugar can affect a child's lifelong habits and taste preferences. As this study shows, infants and toddlers are getting more than enough sugar at home. Child care providers should avoid serving food or drinks that have added sugar, even for holidays and celebrations. Replacing candy and cupcakes with stickers and dance parties is a great way to cut down on sugar and still create memorable celebrations.
Providers should also help educate families about how to identify and avoid added sugar, since it isn't always easy to spot and is often found in food and drinks that are marketed as "healthy" options. Families may not know much about reading nutrition labels on foods, or they may assume foods that are marketed as infant or toddler snacks are healthy. One great way to get their attention is to create a display board that shows the sugar content of different foods and drinks. Make sure to include information about foods that are marketed as infant or toddler snacks, since those foods are not well regulated and often contain a lot of added sugar and are not the healthiest options.
Policy Implications
State child care licensing regulations can play a big role in limiting how much sugar children are eating and drinking while in child care. Nutrition regulations should align with the Child and Adult Care Food Program (CACFP) and beverages should be limited to water, unflavored milk and 100% fruit or vegetable juice. CACFP guidelines were updated in 2016 to limit how much sugar is allowable. Those changes need to be protected and not rolled back.
At the program level, child care providers can create policies that keep food and drinks high in added sugar out of their programs. Policies for healthy celebrations and foods brought from home can state clearly that sugary drinks, candy and treats are not allowed. And since little eyes are always looking at what the adults are doing, program-level policies can also require staff to be good role models by eating and drinking only healthy options while children are present.