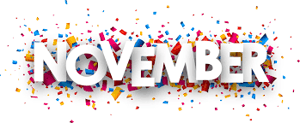 As the leaves change and the weather starts to turn cold, we shift our attention to important end-of-the year work, which includes the launch of our 10th Parents and the High Cost of Child Care report. Visit usa.childcareaware.org/costofcare for more information on this year's report, which includes both state and county-level data on the cost of child care. We also continue to plan and build momentum around our Child Care Works movement following the election and lead-up to the first 100 days of the new administration.
Below are some additional highlights from November.
Online and On-Air
The Emergency Preparedness Team recently launched a preparedness survey! We invite CCR&R staff, child care center directors and staff, family child care providers, and parents with children enrolled in a child care program to take the survey and help us advance our emergency preparedness training and technical assistance efforts. The survey takes about 10 minutes to complete, and we will be holding a drawing for a $50 gift card and other prizes. The survey is available here.
On October 25, CCAoA co-hosted a webinar with FEMA's Region IV Voluntary Agency Liaisons (serving the Southeast states, including AL, FL, GA, KY, MS, NC, SC, and TN). The webinar, "Meeting the Needs of Children in Child Care in Emergency Preparedness, Response, and Recovery," focused on helping participants understand challenges that families and communities face when child care is disrupted, and highlighted efforts to strengthen state and local CCR&R agencies' capacity to prepare child care programs for emergencies.
On November 16, Jay Nichols, CCAoA's Director of Federal Policy and Governmental Affairs, and Michelle McCready, Chief of Public Policy, hosted a webinar discussing the results of the 2016 election and provided a preview of the next Administration and new Congress. The presentation also summarized potential cabinet members, congressional leadership and committee changes, and an overview of state legislatures. The public policy staff also discussed the Child Care Works first 100 days strategy for the new Administration and Congress. Learn more and watch the election debrief webinar here.
CCAoA kicked off the holiday giving season with a Facebook Live panel discussion on Giving Tuesday (November 29). The discussion involved a talk with parents about the new landscape after the presidential election and included compelling personal stories from three families who are facing challenges concerning child care cost, quality, and accessibility in their communities. The panel was facilitated by Michelle McCready and included commentary from CCAoA Executive Director Lynette Fraga, Ph.D., in addition to parents. The 30 minute video can be found on our Facebook page.
Around the Country
The Parent and Provider Services Team transitioned all eligible families participating in the Army Fee Assistance Program from the General Services Administration to Child Care Aware® of America as of October 15. For the most up to date information on the Army Fee Assistance Program, and to interact with other Army families, "like" the Army Fee Assistance at CCAoA Facebook page and follow them on Twitter. Additional information and updates are also available on the Army Fee Assistance website.
On November 9, CCAoA's Emergency Preparedness Team was onsite at the U.S. Department of Health and Human Services' Administration for Children and Families (ACF) offices to present a webinar, featuring CCAoA's work with CCR&Rs across the country in regards to emergency preparedness. The audience, ACF staff who work on preparedness and response activities, included regional administrators, regional emergency management specialists, and ACF program points of contact. Participants received details on the CCAoA emergency preparedness pilot project CCR&Rs as Community Resilience Hubs and learned how the CCAoA team can serve as points of contact through work in disaster and emergency preparedness.
The Emergency Preparedness Team also engaged in the following activities as part of its pilot project, CCR&Rs as Community Resilience Hubs:
* On November 17, in collaboration with the Child Care Resource Center of Tulsa, the emergency preparedness team provided emergency and disaster preparedness training to CCR&R staff in Tulsa. Nearly 40 CCR&R staff from across the state of Oklahoma, as well as attendees from the state of Kansas, took part in this four-hour training of trainers. Attendees can use the skills learned to enhance emergency preparedness training for child care providers in their respective jurisdictions.
* In early December, the Emergency Preparedness Team conducted a Learning Community Convening in Kansas City. Staff from Child Care Resource Center in Tulsa, OK, Child Care Aware® of Kansas, and Child Care Aware® of Minnesota will participate in this face-to-face meeting, which will allow the grantees to learn from and engage with one another, discuss project progress, evaluation, and share plans for future implementation of training, technical assistance, and partnership building.
The Healthy Child Care, Healthy Communities project, funded by the Robert Wood Johnson Foundation kicked off focus groups with partner states in Indiana and Missouri. Our partners at Early Learning Indiana and Child Care Aware of Missouri recruited staff and facilitated locations for the groups.
The project is looking at two key research questions:
1. How does the health status of the child care teacher/provider impact what they do with children around healthy active living?
2. Which messages help build demand for standards on active play, nutrition and screen time among child care teachers/providers?
Mary LaMantia, Senior Director of the Vroom partnership, spoke to a group of woman leaders with the Children's Defense Fund, "Advocating for Young Children: Engaging Women Leaders," as part of a Bezos Family Foundation Event on November 29. Mary and other panelists discussed their role as women leaders and Vroom activation managers. The panel also consisted of Vroom partners from Commit2Dallas and the Department of Public Health in King County, Seattle, WA. The event featured keynote speaker Dr. Amelia Bachleda, a researcher at the University of Washington's Institute for Learning and Brain Sciences (I-LABS). Dr. Bachleda presented on "Healthy Brain Development in Children's Earliest Years" to a select group of Children's Defense Fund leaders.
The Vroom Team also recently presented a Vroom workshop at the 2016 NAEYC annual conference, Early Ed for President, in Los Angeles. They also attended and presented at the ZERO TO THREE annual conference, Building Powerful Connections, the first week in December.
Member Connections
The Child Care Aware® of America Policy Summit is scheduled for April 23-25, 2017 and will be held at the Washington Court Hotel on Capitol Hill in Washington, DC. This annual event addresses policy, practice, and the future of the early childhood field. The Policy Summit will engage professionals in the field and our Child Care Works grassroots advocates and provide information on policy that informs, educates, and assists attendees in building their policy strategies. Sessions will cover action items around discussing public policy as well as legislation and regulations with policymakers across the local, state, and federal levels. Finally, the Policy Summit will include our annual Day on the Hill event, giving child care advocates an opportunity to put the skills they have learned into action, meet with their Congressional representatives, and position child care initiatives at the forefront of the political conversation. We invite you to save the date for this important event! Registration details will be available soon.
ICYMI: November in the News
Just this week we released our annual flagship product, the 2016 Parents and the High Cost of Child Care report. This year's report reveals a continued trend of the burden that families face in finding and funding quality child care. Most notably, the report ranks states on child care costs and affordability, now gauged on the U.S. Department of Health and Human Services' (HHS) new recommendation of no more than 7 percent household median income, compared to the previous recommendation of 10 percent. It also features new information on the cost and affordability of child care across the country, including county-level data for five states (New Hampshire, Arizona, Idaho, Massachusetts, and Minnesota). A new interactive map also allows users to quickly access a variety of cost data for each state, including county-level data for five states. Visit usa.childcareaware.org/costofcare to download the Parents and High Cost of Child Care: 2016 report and toolkit and explore the interactive map.