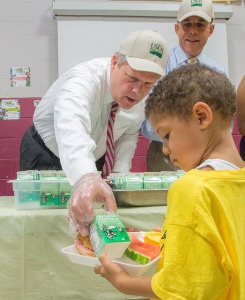 According to a survey sponsored by the W.K. Kellogg Foundation, a majority of Americans support the national school nutrition standards. The poll found that 9 out of 10 people in the United States support the national school nutrition standards, which were revised in 2010 as part of the Healthy, Hunger Free Kids Act. Additionally, 86 percent of people asked say that school nutrition standards should stay the same or be strengthened.
Though the poll focused primarily on school nutrition, one question explored opinions of child care nutrition. 77 percent of respondents stated that they support expanding similar nutritional guidelines to early childhood education programs. This could be considered good news for the Department of Agriculture, which earlier this year proposed meal pattern updates to the Child and Adult Care Food Program (CACFP) that are consistent with the National School Lunch Program. The proposed changes would align the meal pattern requirements for meals provided to infants, toddlers, and preschoolers who receive meals in child care settings to the meals provided to children in school settings.
Improving the quality of food served in CACFP will have a large impact on the health and nutrition of children in this country. 3.3 million children receive meals and snacks through CACFP each day. USDA data shows that in 2014, 48.1 million Americans lived in households that struggler with hunger. For children living in those households that attend centers participating in CACFP, these meals are a vital source of energy and nutrition.
Some opponents to the revised meal patterns claim that the revisions will increase food waste as children will not eat the new foods presented to them. In fact, research shows that repeated exposure to food will increase their liking of it. In short—if they are served the food in the CACFP program over time, they may develop a taste for it over time. This will have a halo effect on preferences in the home and when the children move into the school lunch program as well.
The poll also found that as satisfaction with the nutritional quality of school lunches has increased, so do their concerns about obesity and hunger. 89 percent of respondents think that obesity is a crisis or a problem and 79 percent of respondents believe that food insecurity is a crisis or a problem.
The W.K. Kellogg Foundation poll was developed to determine whether the public's perception of nutrition in schools has changed since the Healthy, Hunger Free Kids Act revised nutritional standards for the National School Lunch Program in 2010. The poll results show that 67 percent of individuals asked believe that the nutritional quality of the food in their schools has increased since the new standards went into effect. 70 percent of respondents rate school lunches as good or excellent, which is an increase of 41 percent from the 2010 poll.
You can find more information about the 2015 School Food Poll here.
Photo caption: Agriculture Secretary Tom Vilsack, city, state and federal leadership, serve lunches to children at Hamilton Elementary/Middle School in Baltimore, MD on Friday, Jul. 11, 2014. The visit highlights the USDA national campaign to expand access to healthy meals in the summer months and the Department's efforts to reduce the impacts of poverty and food insecurity. (USDA photo by Lance Cheung.)