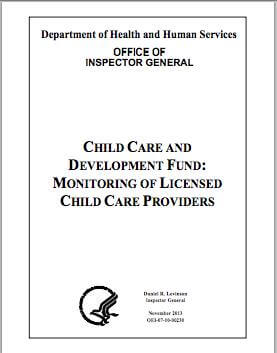 On Monday, November 4, the Department of Health and Human Services Office of the Inspector General released a report on the monitoring of licensed child care providers. The findings, while displaying the dire state of child care licensing standards nationwide, are not surprising.
The report found that 21 states do not require all licensed child care providers to receive an annual, unannounced inspection and that only 15 states require comprehensive background checks. While finding that all 50 states, plus the District of Columbia are in compliance with current Federal regulations, the requirements are vague and provide states with little guidance on how to improve accountability for the funds.
Under current Federal regulations, states are required to provide protections for children using federal child care assistance in three areas:
1) Prevention and control of infectious disease
2) Building and physical premises safety
3) Minimum health and safety training
Even though all states may have implemented policies and practices that comply with the above requirements, the reality is that many states don't provide basic protections for children and families. For example, the OIG report found that "only 15 States reported performing checks sufficient to be considered comprehensive background screenings for both center-based and family home providers."
While conducting a background check via a state criminal record check or of the child-abuse registry may provide some information on the criminal history of a potential provider, it is essential that a FBI Criminal check, based on fingerprints is used to ensure consistency between states, and that a check of the sex-offender registry is conducted. The report states that currently, "the sources least often checked by States were FBI criminal records and sex-offender registries. "
While the numbers of states not conducting comprehensive background checks show that states are lacking in requiring a measure that most parents believe are already in place, the HHS report found that 21 states did not report requirements for routine inspections, and those that did, did not always comply with the states own monitoring requirements.
In FYs 2010-2011, the report showed that states were consistently missing opportunities to "identify deficiencies and recommend provider improvements." For example, in that time period, Illinois missed 82% of its required inspections; primarily failing to record complete and/or accurate details about the inspections. Inspections are crucial for ensuring that children receive the most basic protections while in child care settings and typically look for whether the number of children present matches the amount in the sign-in/sign-out log, whether staff/child ratios are met, whether the program has current certifications for CPR and first aid, and whether dangerous chemicals are properly stored.
The HHS-OIG report emphasizes the necessity for improvements to current law and/or regulations to ensure that children and families that receive federal assistance for child care are provided basic measures to keep them safe and healthy. Although the report focuses on the state of the state statutes as they exist currently, there has been federal initiatives to require basic standards, including comprehensive background checks, initial and annual training, and pre-licensure and annual inspections.
The CCDBG Reauthorization bill would ensure that children are in a safe environment that promotes their healthy development. Parents need child care in order to work and a strong economy depends on working parents. Parents want it; children need it.