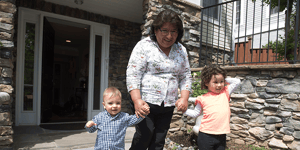 In a recent post, we talked about the benefits of mobile texting for CCR&Rs and child care providers. In this post, we'll look at two case studies of successful mobile texting in action.
Case Study: Kansas' Successful Mobile Texting Campaign
Understanding the value in texting as a form of communication, Child Care Aware® of Kansas has worked with Compliant Campaign to launch their own mobile texting service with both parents and providers and their efforts have been successful.
Kansas launched this service in March 2017 and the successful marketing of the services has led to over 1,000 caregivers and providers signing up to receive up to four messages a month. They promoted the new service through emails, social media, their website, and at in-person trainings and with partners. They have received positive feedback from those signed up. Kansas sends a variety of information including upcoming events, family engagement activities, healthy recipe ideas, illness prevention tips, and emergency planning ideas.
Child Care Aware® of Kansas shares Child Care Aware® of America's emergency preparedness services and resources, severe weather tracking, illness prevention, reminders to update emergency contacts, fire prevention, and radon awareness. As the program grows, they hope to move the real-time messaging to localize the emergency information they send to caregivers and providers.
"Mobile texting has allowed us the ability to get critical information in the hands of hundreds of child care professionals in a timely, proactive and confidential manner," said Kami Cohorst, Quality Initiative Director at Child Care Aware® of Kansas.
To learn more about Child Care Aware® of America's partnership with Compliant Campaign visit https://www.compliantcampaign.com/childcare.
Case Study: Assessing the Impact of Hurricane Irma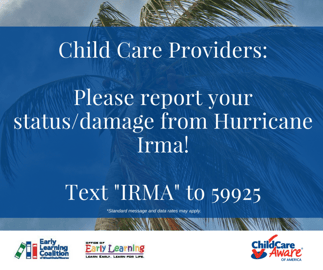 On September 10, 2017, Hurricane Irma, the strongest hurricane ever observed in the Atlantic struck the Florida Keys. At approximately 9am, Category 4 Irma made landfall on Cudjoe Key, packing 130mph winds. In Florida, damage spanned nearly 600 miles. There were a total of 23,316 child care programs with the capacity to serve 710,636 children in the impacted area in Florida. Through partnerships with the local child care resource and referral agencies and the state licensing division we were quickly able to utilize Child Care Aware of America's mobile texting platform to gauge the impact of the hurricane on child care programs.
Child care providers could easily report their status – damaged, open, closed via the mobile texting system. In order to ensure the system was accessible to everyone, we also translated the program into Spanish and Haitian Creole.
The information gained through the mobile texting program was extremely valuable in determining which areas were hardest hit and what resources were needed to get child care back up and running. The results of the mobile texting survey were plotted, in near real time on a map (see below) – which provided a quick and easy mechanism to determine those areas in most need.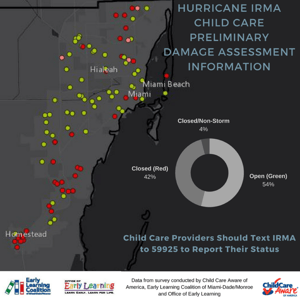 All of this information can be found at our website: childcareprepare.org. To learn more about Child Care Aware® of America's mobile texting partnership with Compliant Campaign visit https://www.compliantcampaign.com/childcare. If you are interested in setting up a mobile texting program at your CCR&R,
!