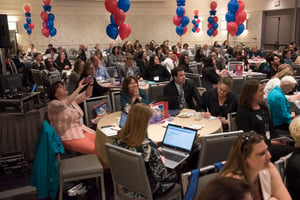 We were excited to have more than 300 attendees join us for this year's Child Care Aware® of America Policy Summit on April 23-25 in Washington, D.C. Child care resource and referral (CCR&R) agencies and early child care professionals from various disciplines and settings joined us from across the nation to address policy, practice, and the future of the early childhood field. Attendees engaged in insightful sessions, profited from key takeaways, networked, and (most importantly) made their voices heard during our special Day on the Hill event, where child care advocates and allies had an opportunity to meet with their Congressional representatives and put child care initiatives at the forefront of the political conversation.
The engaging policy-focused event included facilitated discussions, plenary sessions, deep-dive breakout sessions, keynote presentations, CCAoA's 30th anniversary kick-off, and our Day on the Hill rally.
Here are just a few highlights from this year's event:
Opening plenary speaker Paul Schmitz, CEO of Leading Inside Out, shared his insight and expertise on how everyone in their community is a leader in their own way, and how these leaders have a huge impact on social change.
Keynote speaker Julie Sweetland, PhD, VP for Strategy and Innovation, FrameWorks Institute, discussed how to mobilize public support for better policy and practice.
Facilitated discussions included topics on a changing landscape for resource and referral and the future of child care in America.
A three-part series of sessions covered systematic management approaches to improving program administration, operations, service delivery, and overall business performance.
Breakout sessions included topics on the future of integrated online consumer education and referral delivery systems, child care provider physical and mental health, early education professional development, and defining the role of CCR&Rs in disaster (just to name a few).
A deep dive session covered the work of CCAoA's child care deserts report through the lens of a state administrator, state network, family foundation, and leaders of CCAoA's NDS team.
A breakout session addressed family and community engagement in CCDBG, including resources for referral agency staff that will enhance family and community engagement efforts in their community

We also celebrated our 30th anniversary kick-off, including the unveiling of our 30th anniversary logo
A video of the celebration is available on our Facebook page. We also invite you to visit our 30th anniversary webpage for monthly updates on all of the festivities!
Finally, the event culminated in our march to and rally on Capitol Hill. This year, 80 parent and family advocates joined us, resulting in more than 300 meetings with Congressional representatives. A video of our exciting Day on the Hill rally is available on our Facebook page.
As you can see, this year's event was full of exceptional and diverse content that resulted in much thought-provoking discussion around policy issues related to child care. Visit our website to view the full event program, or explore the #PolicySummit2017 hashtag on Twitter, Facebook, and Instagram to experience the event on social media.
If you missed the Family Advocacy Summit, view a recap including a photo album here.
Did You Miss Policy Summit? Save the Date for our 2018 Symposium
For those who were unable to join us for Child Care Aware® of America's Policy Summit, we invite you to save the date for our 2018 Symposium, which will take place April 17-21, 2018 in Washington, DC.