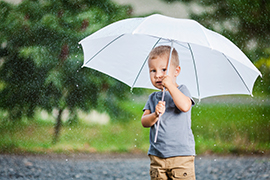 Along with the month of May comes a multitude of work around our upcoming public policy research projects, several of which are on track for release this summer. Activities and excitement around our 30th anniversary continue, planning for our 2018 Symposium have begun, and we are pleased to share details around several new initiatives, including our Family Voices blog/vlog series!
Below are some additional highlights from May.
Online and On-Air
Lynette Fraga, CCAoA's executive director and in her role as Chair, supported the Children's Leadership Council's (CLC) press conference call on May 24. On the call, child advocacy groups discussed President Trump's budget and the impact it will have on children and families. Read CCAoA's statement on the President's budget request here.
CCAoA is developing a comprehensive child care state licensing database to be launched for public use this year. In collaboration with researchers from the University of Miami, CCAoA is populating our database with data collected directly from state licensing manuals, providing for analysis to demonstrate each state's child care regulatory alignment with Caring for Our Children Basics, considered to be the gold standard for child care practices. Users are encouraged to navigate from their state to a particular topic area for a brief overview of how their state is doing. Within each topic, each state receives a rating of "meets" or "does not meet" for each of more than 80 substandards for both child care centers and family child care homes. Through this database, users will also be able to download and print a two-page overview of a state's ratings as well as access an ever-growing list of resources and advocacy tools.
CCAoA released its inaugural white paper on Child Care Deserts: Developing Solutions to Child Care Supply and Demand in September 2016. The white paper explores the concepts of child care supply and demand from both the perspectives of parental choices and decisions made related to finding quality child care, and state and community-level approaches to documenting and addressing child care deserts. Through a generous grant donation, this year we will release a more in-depth customized child care deserts map with accompanying reports in 15 states. These maps will be driven by each targeted state's unique needs. Stay tuned for more details on this new release.
Wild weather continues across the country, serving as an important reminder about the need to be sure we are prepared. Take time today to ensure you, your family, and your program are prepared for severe weather and disasters. You can learn more by visiting www.childcareprepare.org.
We are pleased to announce the launch of our Family Voices blog/vlog series! These stories have all been written or video logged by parents who care deeply about the child care choices they have and see immense value in the opportunities that early care and education services offer for children, families, employers, and communities. Explore the Family Voices blog/vlog series today, and share your child care story.
CCAoA's Vroom team is partnering with Vroom Ambassadors to promote the important work they do through a new blog series! Explore the inaugural blog post featuring Vroom Ambassador Barbara Mattle, CEO of Child Care Council, Inc. who tells the story of the project's inception and how their CCR&R has worked to get Vroom materials on early brain development into the hands of parents. Stay tuned for more exciting developments on how we are elevating the CCAoA Vroom partnership.
Around the Country
Jay Nichols, Director of Federal Policy and Governmental Affairs, represented Child Care Aware® of America at the Aspen Institute's retreat in Wye, Maryland on May 16-18. The retreat focused on creating a "strategic map" on the opportunities, gaps, challenges, and priorities for key federal policies that impact children and their families.
CCAoA's research team attended the latest public convening for the Committee on Financing Early Care and Education with a Highly Qualified Workforce, sponsored by the National Academies of Sciences, Engineering, and Medicine. Explore our key takeaways from the event.
CCAoA presented information on their preparedness work during the Nebraska Voluntary Organizations Active in Disaster (VOAD) call in early May. Partners on the call learned about resources, tools, publications, and support they were able to access and request before, during, and after disaster.
Emergency preparedness team member Holly Nett attended the Economic Recovery Summit: Resiliency after Disaster at the UNL Innovation Campus in Lincoln, Nebraska on May 10. Speakers from the government, nonprofit, business, and higher education sectors presented their ideas on resiliency after a disaster. Holly was there to ensure the voice of child care providers and CCR&Rs was heard.
Member Connections
CCAoA is pleased to announce a new membership webinar series! Please see below for our upcoming webinars.
Developing Health Messaging for Child Care Teachers and Providers: Join us on June 22 at 2 p.m. ET for this informative webinar where we will review recent findings from our focus group evaluating the importance of a healthy child care setting and the need to develop messaging that will resonate and build support for standards/regulation changes with child care providers and teachers.
Child Care and Disasters—The Role of CCR&Rs: Join us on August 9 at 2 p.m. ET for this webinar where we will explore different approaches that CCR&Rs have taken in the disaster context. Through presentations from CCR&R staff, we will explore the various roles that CCR&Rs can play before, during, and after a disaster.
We invite you to save the date for our 2018 Symposium, which will take place April 17-21, 2018 in Washington, DC.
ICYMI: May in the News
President Trump has released his detailed FY 2018 budget request, which is a follow up from his "skinny budget" published in March. While the President's request includes proposals that could benefit a number of families, it would be devastating for most low-income and working class parents and their children.
As part of the new budget that was just released by the Administration, the CCAMPIS program, which provides funding for campus child care, has been eliminated. We talked to some of our family advocates about this change and how it would affect families like theirs.
CCAoA continues to provide support to CCR&Rs impacted by emergency and disaster events. In May, CCAoA staff reached out to CCR&R partners in Tulsa, Arkansas, and Missouri following floods and severe storms impacting the area. Support includes assistance with damage assessments, serving as liaison between charitable organizations, federal agencies and the member organization, and making available tools and resources for child care providers and families.
CCAoA is a new Campaign Safety Leader with Pool Safely, a campaign focused on water safety efforts. To improve pool and spa safety, the U.S. Consumer Product Safety Commission (CPSC) launched Pool Safely: Simple Steps to Save Lives, a national public education campaign to reduce childhood drownings, submersion injuries, and entrapments. The campaign is a call-to-action for consumers and industry to adopt proven water safety steps and join a national conversation about pool and spa safety by sharing best practices and other life-saving information. Over the next several months, CCAoA's emergency preparedness team will help deliver important messages, applicable to child care programs, focused on water safety.
The NDS team continued momentum with the Child Care Deserts project in May by expanding the total number of states involved in the child care supply and demand mapping project to 10. The second of three five-state cohorts met with members of NDS and research teams to identify the greatest challenges or opportunities that could be addressed with child care deserts maps. Topics of focus include access to nontraditional hour care and access to high-quality care for children on the CCDF waitlist. States now engaged in the project include New Hampshire, Massachusetts, Idaho, Arizona, Minnesota, Washington, Oregon, Alaska, Indiana, and Hawaii. The team looks forward to showcasing the project at the QRIS BUILD Conference in June.
Bezos Family Foundation offered our Florida Vroom Ambassador site an opportunity to participate in a new and exciting pilot test of the new Vroom feature—texting tips. As part of this newly launched pilot project, Vroom in Florida through the Office of Early Learning is testing a new feature that will allow CCR&Rs to share Vroom brain building tips via text message. Each week, Vroom sends tips for each registered child ages 5 and under. Parents choose to receive texts in the morning or evening and can choose to receive texts in Spanish or English. CCAoA's Vroom Ambassador from Florida has been selected as one of several CCR&Rs to pilot test this new feature.