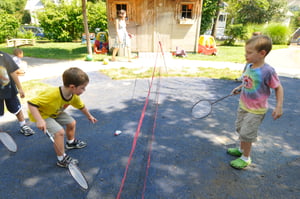 I had a beautiful drive into our office's in Arlington, VA today – not only is it a sunny clear day, I have the good fortune of driving along the Potomac River with a breathtaking view of the nation's Capital. Even more amazing about this morning's drive? Very little traffic! Ah, August is here and for the next several weeks many are taking their summer vacations…
That said, July was busier than ever!
Around the Country
Child Care Aware® of America is pleased to announce an exciting partnership with the Bezos Family Foundation focused on encouraging family engagement through, a national initiative that empowers parents to turn everyday activities into brain building moments for their children. Vroom provides interactive tools and resources that highlight the science behind early brain development, showing parents how they can build their children's brains in everyday moments like bath time and meal time. The tools are free of cost, simple enough to fit into parents' daily routines, and right at their fingertips.
On the Hill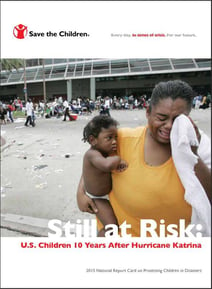 On July 15, Lynette Fraga participated in a panel discussion hosted by Senator Bill Cassidy (R-LA) and Congresswoman Grace Meng (D-NY) highlighting the 10-year anniversary of Hurricane Katrina and what gaps remained based the recommendations from the former National Commission on Children and Disaster, which was published in 2010. The event, which was held on Capitol Hill, was moderated by NPR contributor and New Orleans native, Cokie Roberts, and in addition to Lynette, the panel also included:
Rich Bland, National Director of Policy and Advocacy, Save the Children, US Programs
Dr. Steven Krug, Chairperson of the American Academy of Pediatrics Disaster Preparedness Advisory Council
John Bischoff, Executive Director, Missing Children Division, National Center on Missing and Exploited Children, and
Dr. David Abramson, Director of the Program and Population Recovery and Resiliency at New York University
You can review the report from Save the Children here.
CCDBG Implementation Station
Child Care Aware of America policy team introduced the CCDBG Office Hours as part of the CCDBG Implementation Station. This one-on-one designed member benefit has received tremendous responsiveness. The first session was held July 17th and focused on the impact of the reauthorized CCDBG Act of 2014 on after-school programs. The Office Hours sessions will continue through March 2016.
Online and On-Air
On July 20, Lynette Fraga joined the National Women's Law Center (NWLC) along with a panel of experts from FFYF, NBCDI , and NAEYC on a national call to discuss making funding for early childhood programs a priority.
On July 30, Child Care Aware® of America hosted a webinar on Family Engagement. Over 160 people participated, and it was headlined by Michelle McCready, Deputy Chief of Policy, Jay Nichols, Director of Federal Policy and Governmental Affairs, and Dr. Kim Engelman, Senior Advisor and Director, Family and Community Engagement. Additionally, Lauren Hogan, Vice President of Programs and Policy with the National Black Child Development Institute participated as well.
Member Connections
Several CCAoA staff attended BUILD in Washington, D.C. July 15-17 visiting with many of our colleague CCR&Rs from around the country who also attended.
We are gearing up for the State Network and Membership Council meetings on October 18-20 in Arlington, VA. More information coming soon
Please also continue to explore our new website and provide us with feedback. Check out the ENGAGE page and connect with us on social media or contact us with any questions!
ICYMI: July in the News
July was a great month for media coverage, with more than 3900 media hits in such digital resources as Time, Newsweek, Forbes, Money and MSN.com. Lynette was interviewed by Good Morning America for a story on child care safety after an incident at an unlicensed child care facility in New York City. While the actual interview was not aired, ABC News shared our resources online on how to find a child care provider, what questions to ask in selecting a provider, and how to access CCR&Rs for information.