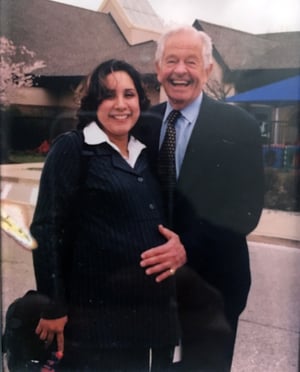 Dr. T. Berry Brazelton was a tireless and passionate pediatrician and advocate for babies, toddlers and their families. There are many across the country and over the years that have been impacted by and are now celebrating his life and contributions to the early childhood field.
In April of 2003, on my daughter's due date, I was scheduled to travel with Dr. Brazelton to a military child care center in northern Virginia. Though many wondered if I would actually be able to make the trip, and, of course, backup arrangements were made, there was no way that I would miss both the opportunity to spend a day with Dr. Brazelton, or the opportunity to see him interact with the babies and their parents that would be greeting us. What a delight to see him in action and an inspiration to experience the sensitivity, respect and honor he paid to the families —many of whom were or would be experiencing separation due to deployment — and to the early childhood educators committed to so much of what he taught us, including the important role of adults in the lives of young children and the joy and growth that could come from that relationship.
Dr. Brazelton changed the way we think about babies and what they can do. He taught us that infants are complex, responsive and can engage with the world around them. He stressed the importance of the maternal-infant bond and how interactions between children and adults impact the child's positive development. Consequently, Dr. Brazelton worked with Congress to pass parental leave legislation and other family-friendly initiatives.
Dr. Brazelton impacted so many families, including mine. And while he was ahead of the research that today we take for granted, Dr. Brazelton taught us that the most important thing we can do as parents is to be joyful!
"What a chance to get to know a small child as an individual!" From Touchpoints: Birth to Three, Second Edition by T. Berry Brazelton, M.D., Revised with Joshua D. Sparrow, M.D. (Da Capo Press, 2006).