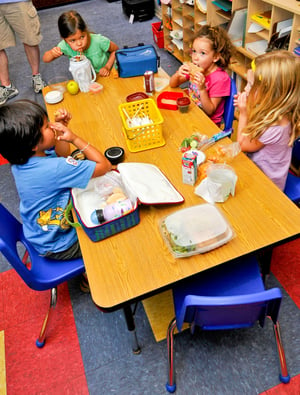 For many families across the country, their little ones are going to school for the first time. Whether starting a brand new routine after being cared for in a home-based setting or if care was provided in a child care center, going to "big-kid school" is a big deal!
It is a lot of change and some of the changes can have an impact on a child's health, for instance, the amount of active play time and the kind of meals being served.
The Transition from Meals at Home to Meals at School
Cafeteria meals are just one of the big changes in store for children. Children cared for at home or in many child care settings, might be used to family style meals, where foods are placed on the table and kids are encouraged to serve themselves and everyone sits and enjoys the meal together. At home or in child care, you may have been able to sit and eat lunch together, or have small tables where small groups of children could all share a meal together. Transitioning to small cafeteria tables in kindergarten, going through a cafeteria line to pick up their little tray, and eating with friends, will be different.
Another difference is what's on the menu. School meals are required to follow guidelines where fat, sodium, and added sugars are limited—keeping the foods kids eat healthy and nutritious during school. The food served might be different from what was served in child care as many child care programs follow the Child and Adult Care Food Program (CACFP) meal requirements. The CACFP meal pattern requirements help make sure that children start good habits in having a foundation of a nutritious diet and get a chance to grow healthy and strong! The food served might also be different from what you serve and eat at home. Be ready for a transition period and have extra healthy snacks ready for kids when they get home as they get used to trying new things.
The Integration of Active Play into a Child's Day
Another change that can impact a child's health is in active play. Summer time is typically filled with time play outside. As children transition into school, you may notice they have less time to play and move around during the school day than they did at home or in child care. While there may be less active play in kindergarten, the good news is that parents and after-school care providers can continue to support active play after the school bell rings! You can play games like "duck, duck, goose," for instance. You can find tips on how to incorporate active play at home here.
Probably the biggest transitions for the little ones are the changes in their environments and routines. These changes may lead to changes in behavior, because there are a lot of new feelings and emotions that this transition will bring up.
Because kindergarten has more structure, a bigger focus on academics, and more time sitting at desks, it's important to prepare your child for their new environment. The best way to prepare is to talk about it. Before school starts, talk to your child about what things will be like at school, how they'll meet new people, learn new things, and make new friends. You can use resources here and like this video about kindergarten, and this calendar tool to help parents plan for the transition to kindergarten.
If you are a child care provider, here are some tips on how to prepare families for the transition.