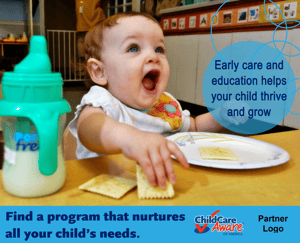 In May, Child Care Aware® of America (CCAoA) will begin piloting the Family Voices, Quality Choices resource suite—a collection of child care consumer information and outreach materials—at two Child Care Resource and Referral (CCR&R) agencies for a period of four months. Child Care Services Association in North Carolina and Child Care Aware® of Kansas have partnered with CCAoA to feature these materials in their consumer engagement efforts.
The Family Voices, Quality Choices Resource Suite aims to support families by addressing a diversity of child care information needs such as quality, family engagement, and supportive services, just to name a few. Content for the materials emerged from the perspectives shared by families during focus groups, a parent poll, and key informant interviews with CCR&R and health and human service professionals. Participating pilot sites will use the provided materials to bolster their work with families in innovative ways, particularly in their outreach to families and community stakeholders using digital media.
The resource suite is part of a larger Family Voices, Quality Choices initiative, generously funded by the W.K. Kellogg Foundation, focused on family engagement and consumer education. Under this initiative, a group of family and professional stakeholders engage in discussions around child care and family engagement. A white paper, Family Voices Driving Quality Choices (coming soon), will introduce research findings that explore the child care information needs and preferences of low-income and otherwise vulnerable families. A collection of best-practice spotlights and webinars are planned and will feature cutting-edge approaches to child care consumer engagement and outreach.
Stay tuned for more updates about the Family Voices, Quality Choices initiative, including progress updates on the resource suite pilot.
See more information about our family engagement efforts here.