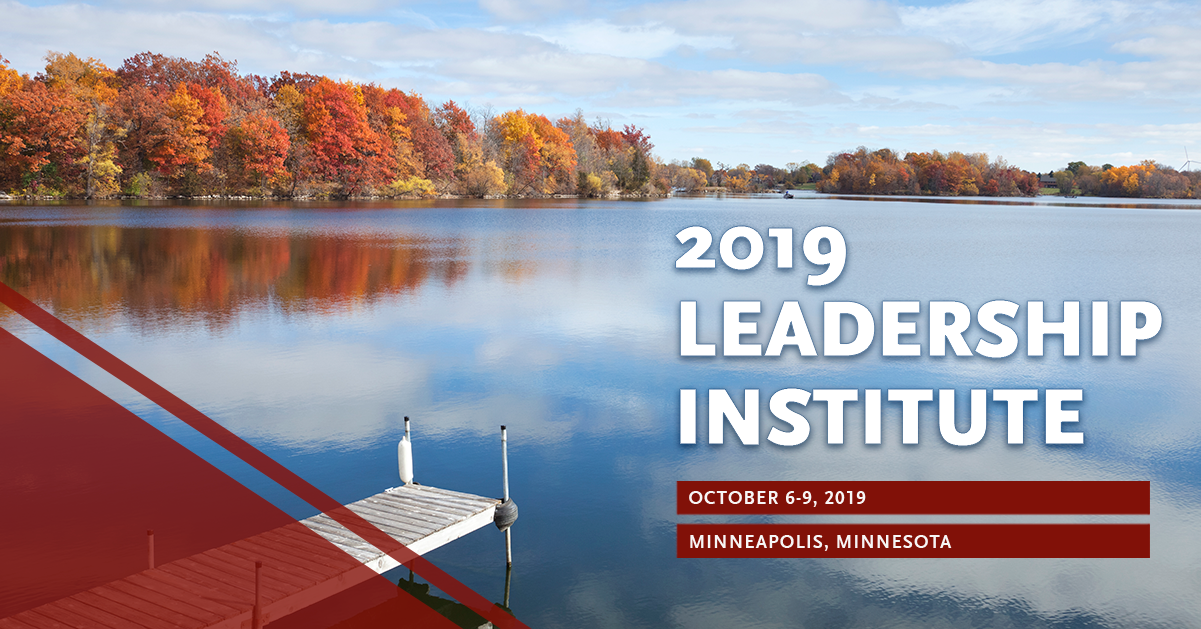 Child Care Aware® of America is in full planning mode for our 2019 Leadership Institute - Exceeding the Vision, Expanding the Possibilities. This year our Institute will be held in beautiful Minneapolis, Minnesota, from October 6 – 9 at the Embassy Suites Hotel.
The Leadership Institute (formerly known as the State Network Leadership Institute / Membership Council Institute) was created to enhance the future of the Child Care Resource and Referral (CCR&R) community by developing the skills of current and future leaders in the industry. The Institute's content and engagement activities are particularly relevant to CEOs, executive directors, program directors, leaders and emerging leaders at State CCR&R Networks, Local or Regional CCR&R agencies and CCR&R Parent Agencies. We encourage you to invite your key state and community partners to join you at the Institute to reflect on and plan for your joint work.

A Quick Preview of What's to Come
This year we are excited to have 10 of your peers helping to design the Institute to meet your needs as a Child Care Leader. They will be meeting to plan not only the content but also intentional ways for you to connect with and learn from the other attendees. These committees are just starting to meet to develop the content, but we do have some sneak peeks for you.
On Sunday, October 6, the State Network Council and the Membership Council will have a joint council meeting from 1– 4:30 p.m. If you belong to one of these councils, please make sure to arrive in time for this critical meeting. Following the Council meeting, Robin Phillips, CEO of Child Care Aware ® of Missouri, will hold a free Pre-Institute session titled "Multiply Your Influence." Robin is certified in John Maxwell's leadership program and will provide an overview of what traits characterize great leaders and how to develop leadership skills in yourself and others. Seats will be limited for this session, so remember to sign up for it when you register for the Institute. We will begin our Institute on Sunday evening with a free Networking Reception.
Look for our schedule at a glance to be released in early June. You can expect to see sessions related to engaging with businesses and chambers to enhance your mission, as well as innovative ways states have worked together to achieve policy victories, to name a few. If you are making your travel arrangements now, be sure to schedule your flight home on Wednesday, October 9, after Noon. Our Closing Session will be from 10:45 a.m. – Noon.
Why Should You Attend Leadership Institute?
Great question! Leslie Sinclair, Program Director of Lower Shore Child Care Resource Center at Salisbury University in Maryland and one of our Leadership Institute Planning Committee members, shared with us why she attends the Leadership Institute. "I attend the CCAoA Leadership Institute for several reasons, not least of which is that I feel it launched me into my career in CCR&R. I have attended since 2007, and really enjoy networking with colleagues I've come to know and respect over the years. Sometimes, working in our communities and focusing on the details of local needs, we forget about the big picture. Spending a few days learning about issues of safe, available, appropriate and affordable child care and early childhood education, recognizing the impact of CCR&Rs across the country and considering the future of our youngest citizens brings me back to the reality of why I do what I do. So thank you Child Care Aware of America. I'm looking forward to Minneapolis."
Leadership Institute is the one time of year where CCR&R leaders can attend an event that is specifically designed to advance their work as a Child Care Leader. It is about propelling our joint vision to advance affordability, accessibility, development and learning of children in child care. It is the one place where a CCR&R leader can go to hear all of the trends, the most up-to-date research and policy updates that directly relate to their work.
This year's Leadership Institute promises to offer all this and more. You won't want to miss it! Register today to take advantage of our Early Bird Registration and secure your spot.