The city of Flint, Michigan is home to nearly 100,000 residents. Throughout the past several months, these residents have been living a nightmare scenario: the water flowing out of their taps is not safe to drink.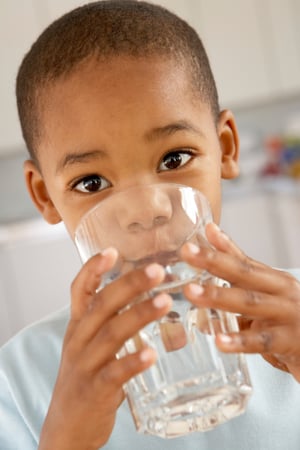 Problems began back in April 2014, when the city decided to switch their water supply from Detroit to Lake Huron. The infrastructure needed to bring the water from Lake Huron to Flint was not complete, so water from nearby Flint River was used until the infrastructure could be finished. Almost immediately, citizens began noticing discoloration and odd smells coming from the taps in their home. In addition to the discoloration and smell, the water also contained elevated levels of lead, which had leached from pipes.
Lead poisoning can happen in a variety of ways, and is one of the biggest health risks for young children. There is no safe lead level for children, even low levels have been shown to have an impact. Lead can cause permanent damage to the nervous system, including the brain and in children, lead can cause behavior and learning problemsthat can last a lifetime. According to the Centers for Disease Control and Prevention (CDC), nearly 535,000 children aged 1 to 5 have blood levels high enough to damage their health.
In September 2015, researchers discovered that lead contamination in Flint's children younger than 5 had nearly doubled since the water source changed. In response to these findings, city officials declared a public health emergency in October, followed by a state of emergency in December. The city also began steps to switch back to the old water supply in October, however the elevated lead levels persist. This week, the state of Michigan also declared a state of emergency and members of the National Guard were dispatched to assist with distributing water. Currently, Flint fire stations are serving as distribution sites, providing the public with free water, filters, and test kits. No doubt the impacts of this water crisis will be long-lasting and, for some, life changing.
What you can do:
Americans drink more than a billion cups of water each day. Access to fresh, clean water is vital for our health. In the United States, the majority of individuals (nearly 85 percent), receive water from public sources. Pursuant to federal regulations, the public water supply is tested for over 80 chemicals. You can become familiar with what is in your water by reading the annual water test reports, provided by your water company. For the 15 percent of Americans that receive their water from private water sources, such as wells, you should ideally have your water tested yearly by a certified laboratory.
Homeowners should be aware of products containing lead. Older homes may contain lead paint, or have lead pipes, which are usually dull gray in color and can scratch easily. Dr. David Dyjack, Executive Director of the National Environmental Health Association recommends concerned homeowners should contact their local health department to receive a referral to an industrial hygienist or environmental health specialist who can assist in assessing pipes, paint, or other potentially risky conditions in their homes. He also strongly encourages parents to contact their health care provider to receive individualized answers to related medical questions.
Water is a vital part of our emergency preparedness kits. The U.S. Federal Emergency Management Agency (FEMA), maintains a website dedicated to water and preparedness. In general, the recommendation is to store a three-day supply of at least one gallon of water per person per day. Learn more at FEMA's Water page.
Learn more about the health effects of lead on children: United States Environmental Protection Agency (EPA).
Timeline of events:
January 2016 – State of Michigan declared a state of emergency, National Guard deployed
December 2015 – City of Flint declares a state of emergency
October 2015 – Flint switches back to receiving water from Detroit
October 2015 – Flint declares a public health emergency after tests revealed that children had elevated of lead.
September 2015 – Researchers discover that lead contamination in children younger than 5 had nearly doubled since the water source had changed.
July 2015 – The public was reassured by government officials that the water was safe to drink.
April 2014 – Flint stopped receiving water from Detroit, switching to Lake Huron water instead. The infrastructure to transport the water from Lake Huron to Flint was incomplete, so residents began receiving water from the Flint River until the infrastructure could be completed.