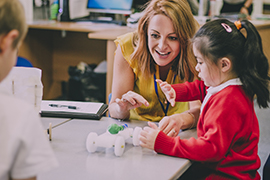 We're finally feeling winter's chill here in Arlington, Virginia, so it's as good a time as any to sit down and recap everything we were able to accomplish in December!
Around the Country
CCAoA staff members attended the Robert Wood Johnson Foundation's Leaders Advance in Oakland, California. It was an opportunity to meet with other funded groups and create connections, while aligning under the goal of building a culture of health in our respective communities. Participants discussed the importance of equity and addressing racial disparities in our shared goal of helping children and families lead healthier lives, and left the conference with strategies that can help create messages that build demand for healthy, active living.
Krista Scott, CCAoA senior director of child care health policy, also facilitated three state meetings for our Healthy Child Care, Healthy Communities work. Teams from Alabama, New York, and North Carolina met to lay the foundations for the shared work ahead that explores how CCDBG reauthorization can be leveraged to support healthy active living in child care settings.
Dr. Dionne Dobbins, CCAoA senior director of research, presented data from the new Cost of Child Care report as a panelist at the Young Invincibles Conference on December 2, 2015. The panel was moderated by Tara Bahrampour of the Washington Post and included perspectives on cost of caregiving from a parent advocate and experts from AARP, Young Invincibles, and National Women's Law Center.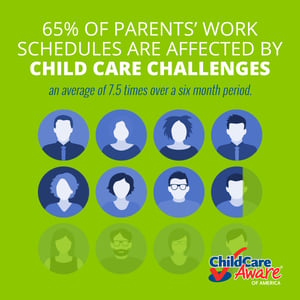 Online and On-Air
The ninth edition of Child Care Aware® of America's 2015 Parents and High Cost of Child Care report was released on December 8 and may be downloaded at http://usa.childcareaware.org/costofcare.
Members of the policy and research team also ran a preview webinar to go over some of the highlights of the 2015 Cost of Care report for members and partners before it was released. You can view the full overview webinar on our YouTube channel.
This year's report highlights child care costs in five urban counties and includes an interactive map that allows users to quickly access a variety of cost data for each state. Find out child care costs in each state and access our press and social media kits online at http://usa.childcareaware.org/costofcare. We hope you take the time to read the report and use the interactive map.
Member Connections
December 4-8, the EFMP Respite Care team trained local partner agency representatives (CCR&Rs as well as other community-based agencies) on Air Force EFMP Respite Care best practices and procedures as well as the subject matter training of Accommodating Children with Aggressive Behavior. EFMP Respite Care team is also planning a similar training for Navy partner agencies to take place this month in San Diego, California.
We also announced our new emergency preparedness program last month, and we welcomed Andrew Roszak, senior director for emergency preparedness, to the team. We also were keeping a close eye on the many emergency incidents that occurred throughout the country. From the mass shootings in California, to the severe thunderstorms and tornadoes in the South, to the flooding in the mid-west, we are again reminded about the need for continued preparedness.
CCAoA has posted a list of resources that provide guidance in dealing with the aftermath of mass shootings and other acts of violence.
Army Fee Assistance
From our Parent and Provider Services team: We look forward to launching our work in support of the Army Fee Assistance Program on February 22.
Coming from an Army family, I recognize one of the most important supports we can offer our men and women in uniform is to help them take care of their families back at home.
CCAoA, Army and GSA hosted two webinars in December (one for parents and one for providers) announcing the transition and providing more information on the process as it unfolds. We've also launched some new social media accounts to help disseminate information –
Symposium 2016 Early Bird Registration
And don't forget the early registration deadline for Symposium 2016 has been extended to the end of January! You can get more details on speakers, hotels, and how to apply to be a part of the Family Advocacy Summit at http://usa.childcareaware.org/symposium2016.