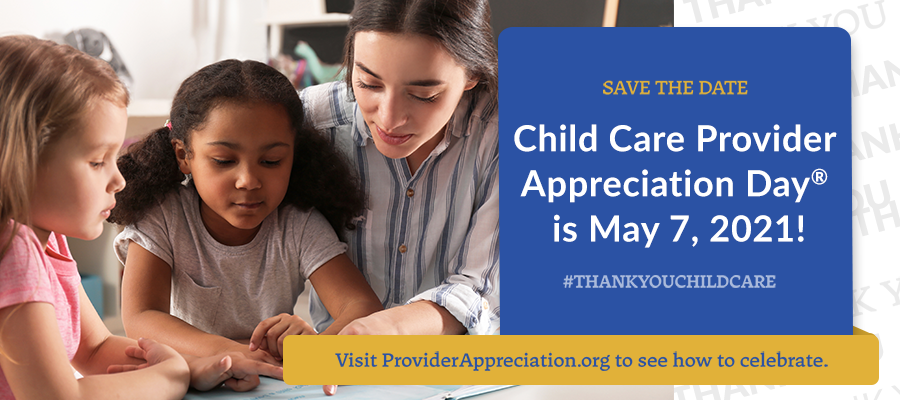 Celebrate child care professionals on May 7! Join Child Care Aware® of America (CCAoA) in saying thank you to providers for taking care of our nation's children. To say that being a child care provider this past year has been challenging would be an understatement. Providers were essential long before COVID-19, but the pandemic has underscored how essential child care is. Child care provides opportunities for families to go to work, children to learn, businesses to operate and the economy to grow. Child care providers are "opportunity makers." Child care providers are brain-builders. They are among our nation's unsung heroes!
"I think early childhood education providers are opportunity makers. . . . [E]arly childhood education providers make opportunities for all of us, not just children. By giving children these brain building experiences, they are opening opportunities for all of our futures." Toni, Connect CCR&R, WV
History of National Provider Appreciation Day®
Over two decades ago, a group of volunteers in New Jersey decided to set aside a day to honor child care providers, teachers and other educators of young children who have dedicated their lives to caring for and educating young children. Since its inauguration in 1996, National Provider Appreciation Day® has been celebrated every year on the first Friday of May before Mother's Day.
#ThankYouChildCare
How do you plan to celebrate Provider Appreciation Day®? Join CCAoA in recognizing the important work of child care providers and say "thank you" to them for making a difference in children's lives.
Check out the tips below for celebrating National Provider Appreciation Day. Also, pass along these ideas to families, community organizations and businesses so that we can all say thank you with one big voice!
Ideas for Families
Get together with other families to give a special gift.
Submit a video testimonial thanking your provider.
Have children draw pictures to send to providers.
Buy a children's book or something for the provider's learning centers.
Give your provider a paid day off, a raise or a bonus.
Record a video of your child saying thank you to your child care provider.
Ideas for CCR&Rs and Early Childhood Organizations
Share messages of appreciation on social media to child care providers.
Use #ThankYouChildCare to post on social media.
Share a certificate of appreciation.
Organize a contest/prize drawing for providers. Reach out to local businesses to donate gift cards and pampering gifts as prizes.
Send a press release to your local newspaper.
Create an agency "thank you" video with a message of appreciation for providers. Embed on agency website or share on social media
"My team and I created an awesome video thanking Providers for all of their amazing work!" Mayra, Child and Family Resources, Inc., Arizona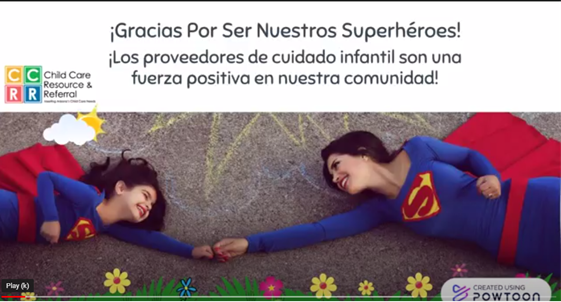 "Our executive director . . . sent out a thank you letter and a certificate of appreciation to providers and we made a video of her reading the letter and posted it on our website. . . . The early learning coalitions throughout Florida posted videos and different types of "thank you" notes or letters on their websites and on social media." Sunny, Florida's Office of Early Learning, Florida
Ideas for Businesses
Provide a special hero discount or coupon
Offer a freebie or gift card
Hang a poster or sign on the window or door thanking providers
Create gift baskets
Share a "Thank You" through a letter, email or social media post
Donate supplies/groceries for a child care program or classroom
Donate pampering / self-care gifts
Honor providers as essential workers
Adopt / Sponsor a child care program
For more information and to download free resources, visit providerappreciation.org.