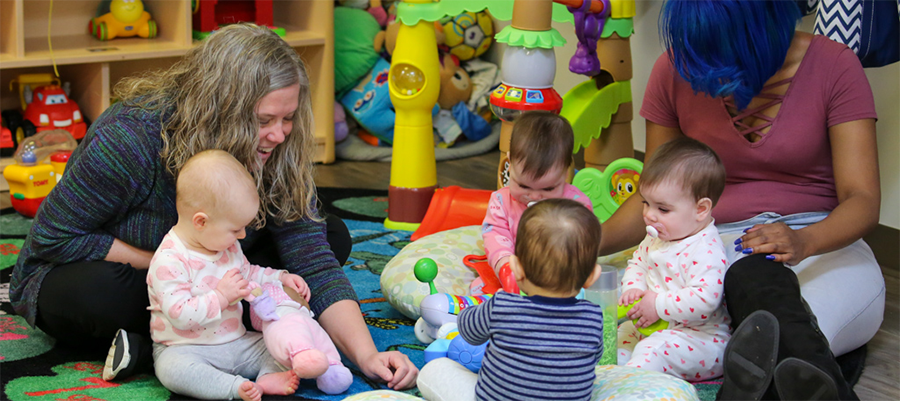 By Aly Richards, CEO of Let's Grow Kids and Lynette M. Fraga, Ph.D., Executive Director of Child Care Aware® of America
Any discussion of essential workers during the coronavirus pandemic should include the child care providers who are caring for the children of first responders, health care workers and other essential service workers. These providers are putting their own and their families' health at risk and helping us through this pandemic. We must provide them with the financial, health and safety resources they need as essential personnel.

In addition, states have been all over the map on whether to close child care programs. We believe that if a state has closed its K-12 schools, all child care programs should also close, with the exception of programs serving essential workers. This should be tied to public and private support to pay for all operations and employee wages while programs are closed. There are inherent inequities in the child care system—no public guarantee of health care, livable compensation or adequate support. Without assistance, there won't be a child care system after this crisis ends. We are calling on policymakers to support child care programs fully if they shut down.
States should follow Vermont's lead in providing support for child care. Governor Phil Scott issued a new Executive Order on March 27 directing schools to remain closed through the end of the school year and extending the closure period for child care until further notice, except for children of essential personnel. The Executive Order acknowledges that child care is critical to both Vermont's coronavirus response and the state's economy.
The state is also working to ensure that Vermont's child care system remains supported through the extended closure period by providing:
Financial support for programs serving essential personnel

.

Child care

programs that provide emergency child care for essential work

ers

during

the

closure period will receive a $125 supplemental payment per child

per week.
Clear health guidance

.

The Vermont Department of Health has developed a new resource for

child care

programs and schools providing emergency child care for essential personnel. It includes clarification on group sizes, how to screen children and families for symptoms of COVID-19, and specific requirements for caring for children in emergency

child care

settings.
Financial support for

all

child care

providers

.

Vermont

's Child Care Financial Assistance Program payments will be based on children who were enrolled in the program and were eligible for CCFAP

,

not on actual attendance

,

through the closure period

.
Vermont has also created a program to help child care providers that serve families unable to pay their regular tuition during the COVID-19 response period. To receive these payments, child care programs must pay full salary to all program staff and maintain slots for children of families who pay at least half of their regular tuition (the state covered the entire tuition during the initial closure period). If a family removes their child from a program during the extended closure period, the program may request all of the tuition, up to a certain amount, from the state of Vermont.
All of these steps will help child care providers meet the needs of Vermont's health care, first responder and other essential workers, and will ensure the future of programs that are closed during the pandemic.
But states cannot do this alone. At the federal level, Congress has begun to acknowledge the essential role that child care plays during this public health emergency. It provided a "down payment" of $3.5 billion in child care funds to states in the last stimulus package which, if distributed quickly, will provide much-needed help to the child care system in the short term. But at least $50 billion is needed to keep our nation's child care infrastructure from crumbling in the long term.
This pandemic has highlighted the critical importance of the child care system. Federal and state policymakers must act quickly to ensure its survival.
-----
Aly Richards is CEO of Let's Grow Kids, a statewide movement to ensure affordable access to high-quality child care for all Vermont families by 2025. Lynette M. Fraga, Ph.D., is the Executive Director of Child Care Aware® of America and serves on the Board of Let's Grow Kids.