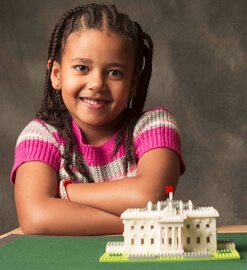 Washington, D.C. – Child Care Aware® of America (CCAoA) is proud to announce the recognition of a silver 'Power of A' award from ASAE and the Center for Association Leadership.
CCAoA has been advocating for the safeguarding of the health and safety of children in child care for years - and it's because of the work our members and parent advocates did to ensure the reauthorization of the Child Care Development Block Grant that we've earned this award.
"Nearly 15 million children of working parents are in some form of child care for an average of 36 hours each week. Our work impacts families who rely on center-based child care, as well as those who rely on home-based care, every day. For the first time, all child care facilities in the U.S. must now meet a minimum standard of health and safety thanks to the newly reauthorized CCDBG legislation. We're grateful for this recognition of our work and the validation of our mission," said Lynette Fraga, Ph.D., Executive Director of Child Care Aware® of America.
The 'Power of A' Awards recognize and celebrate the extraordinary contributions associations make to society by enriching lives, creating a competitive workforce, preparing society for the future, driving innovation and making a better world.
Part of ASAE and the Center for Association Leadership's advocacy role is to educate outside audiences about the true value of associations and the resources they bring to bear on our nation's most pressing problems. ASAE has created The Power of A program as the association industry's brand and messaging platform from which to communicate the association community's role in building a stronger America and world.
About Child Care Aware of America
Child Care Aware of America is our nation's leading voice for child care. We work with state and local Child Care Resource and Referral agencies (CCR&Rs) and other community partners to ensure that all families have access to quality, affordable child care. To achieve our mission, we lead projects that increase the quality and availability of child care, offer comprehensive training to child care professionals, undertake research, and advocate for child care policies that improve the lives of children and families. To learn more, visit usa.child careaware.org. Follow us on Twitter @USAChildcare and on Facebook at facebook.com/usachildcare.