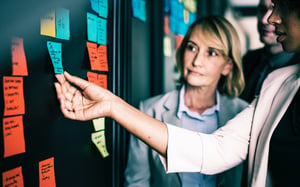 Today, Child Care Aware® of America (CCAoA) released its new strategic plan for FY 2016- 2019. The plan envisions a high quality, affordable child care system that is accessible by every family in the United States.
The new plan articulates the mission of Child Care Aware® of America, as well as our principles and beliefs regarding how we see our work impacting early learning, family engagement, and public policy issues such as cost of child care, equity, and necessary resources to fund research and provide data.
This plan represents months of dialogue and engagement with a wide range of stakeholders including our Board, membership leaders, partners, and Child Care Aware® of America staff to identify seven strategic priorities that will serve as our "roadmap to the future."
The strategic priorities are aligned under three major categories:
Advocacy and Public Policy
Membership
Family and Community Engagement
The following strategic priorities will drive CCAoA's activities and investments:
Serve as a national leader on the access and affordability of quality child care programs for all children
Lead development of innovative, effective and efficient child care policies and programs
Lead efforts to influence decision makers to develop child care systems that meet the needs of children and families
Support the development and implementation of innovative strategies to expand the role of state and local child care resource and referral (CCR&R) services
Expand the network of leaders who are members of the organization, including CCR&Rs and diverse other partners, committed to child care systems that meet the needs of children and families by offering clear membership value
Serve as the leading source of information for families on how to select and find quality child care
Strengthen the role of child care as a key element of communities that support families and children's development.