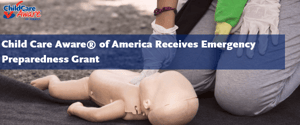 Three states will be selected to help increase the capacity of CCR&Rs to serve their communities during a crisis.
Child Care Aware® of America (CCAoA) will launch a new emergency preparedness training and technical assistance program for Child Care Resource and Referral (CCR&R) agencies in three states, increasing the capacity of CCR&Rs to serve as resilience hubs in their communities in the case of emergencies or natural disasters. The three states selected will be chosen from the following: AR, IA, KS, MN, MO, ND, NE, OK, SD.

The program will develop a train-the-trainer initiative for R&R staff and provide funding support to resource and referral agencies to work with both center-based and home-based providers. The findings will be documented through a variety of channels, including white papers, infographics, and technology.
Child Care Resource and Referral agencies are a constant presence in local communities and serve as a resource for child care providers and families. Many organizations show up after a crisis occurs and leave after short-term recovery, but CCR&Rs build local resilience, relationships, and expertise before, during, and long after a disaster occurs.
For many local agencies, disaster preparedness is not on the list of funded priorities — funds usually accompany a crisis and early stages of recovery. With the proper training and resources, CCR&Rs can serve as resilience hubs that reduce, and possibly prevent, the suffering of people affected by disasters — especially those most vulnerable. Resilient communities must have preparation, relief, and recovery systems in place to ensure that children are safe and that families can return to their jobs.
This work will be funded through a generous grant from the Margaret A. Cargill Foundation.
About Child Care Aware® of America
Child Care Aware of America® is our nation's leading voice for child care. CCAoA works with state and local Child Care Resource and Referral agencies (CCR&Rs) and other community partners to ensure that all families have access to quality, affordable child care. CCAoA leads projects that increase the quality and availability of child care, offer comprehensive training to child care professionals, undertake research, and advocate for child care policies that improve the lives of children and families. To learn more, visit usa.childcareaware.org. Follow them on Twitter @USAChildCare and on Facebook at facebook.com/usachildcare.