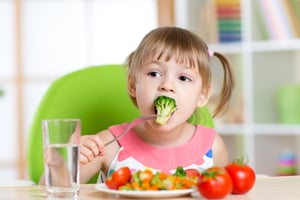 Arlington, VA – Child Care Aware® of America (CCAoA) is pleased to announce the states and organizations selected to participate in the Healthy Child Care, Healthy Communities project – an initiative supported by the Robert Wood Johnson Foundation (RWJF).
Participants include:
Alabama: Alabama Partnership for Children
Colorado: Qualistar Colorado's Healthy Child Care Colorado Program
Indiana: Indiana Association for Child Care Resource and Referral
Missouri: Child Care Aware of Missouri
New York: NYS Early Childhood Advisory Council
North Carolina: North Carolina CCR&R Council
The Healthy Child Care, Healthy Communities project aims to help states identify ways to implement systems level changes that have a positive impact on child health.
Led by Krista Scott, Senior Director Child Care Health Policy, CCAoA, participants will develop a state profile that provides data on rates of child care access and rates of obesity. The profile will also provide information on the states existing regulations and initiatives that impact child health, nutrition and obesity prevention work. Child Care Aware® of America will support States as they work plan on healthy practices in child care. After the work plan identifies the shared initiatives, the team will implement strategies to promote health, nutrition, and obesity prevention activities in the child care setting, based on their state's specific needs.
In the first year of the two year project, participants will develop strategies to advocate for health, obesity, and nutrition issues in child care settings, and state-specific tools and materials promoting child health, nutrition and obesity prevention.
Child Care Aware® of America looks forward to partnering with the selected organizations in this engaging and critical work within the child care community.
About Child Care Aware ® of America
Child Care Aware of America is our nation's leading voice for child care. CCAoA works with state and local Child Care Resource and Referral agencies (CCR&Rs) and other community partners to ensure that all families have access to quality, affordable child care. CCAoA leads projects that increase the quality and availability of child care, offer comprehensive training to child care professionals, undertake research, and advocate for child care policies that improve the lives of children and families. To learn more, visit usa.childcareaware.org. Follow them on Twitter @USAChildCare and on Facebook at facebook.com/usachildcare.