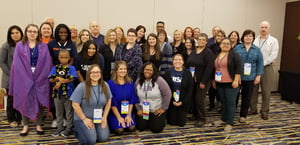 ARLINGTON, VA - Child Care Aware ® of America, the nation's leading voice for child care will host its largest gathering of child care experts, including leaders from Child Care Resource and Referral (CCR&R) agencies, early educators, child care providers, parents, researchers, funders and partners at Symposium 2016, taking place April 4 - 6, 2016 at the Omni Shoreham Hotel in Washington, D.C. This three-day event will focus on the latest child care and early education policies, as well as research, practice and innovative approaches for child care that are shaping how families access quality child care.
The theme for Symposium 2016 is 'Celebrating Milestones. Collaborating for Results' which acknowledges the positive steps toward a safe, quality child care environment made possible by the passage of the Child Care Development and Block Grant legislation in 2014 – and the reinforced need for collaboration in ensuring that all families have access to quality, safe, affordable child care.
"Symposium is a celebration of those who are passionate about quality child care for American families and the importance of early learning," said Child Care Aware® of America Executive Director Lynette M. Fraga, Ph.D. "It's a chance to bring the child care community together with government, business, academia, parents, and thought leaders around early learning, child development, family engagement and professional development, among others to engage around building a child care system that works for all families."
Symposium offers opportunities to connect with thought leaders, Congressional staff and early care and education professionals from across the nation.
The following speakers are confirmed:
Dipesh Navsaria, MD, MPH, MSLIS – Assistant Professor of Pediatrics at the University of Wisconsin School of Medicine and Public Health
Walter Gilliam, Ph.D., - Director of the Edward Zigler Center in Child Development and Social Policy and Associate Professor of Child Psychology and Psychiatry at Child Study Center, Yale School of Medicine
Allison Metz, Ph.D., - Director of the National Implementation Research Network and Senior Scientist, FPG Child Development Institute
Additional topics on the agenda include Cost of Care, training and technical assistance, CCDBG implementation, family and community engagement, professional development and an update on NDS (Child Care Aware of America's data management system).
More than 20 breakout sessions are also planned, in addition to the Day on the Hill, in-person meetings with members of Congress, and a number of networking opportunities.
For more information about Child Care Aware® of America's event or to register for Symposium visit http://usa.childcareaware.org/symposium2016 or email symposium@usa.childcareaware.org.