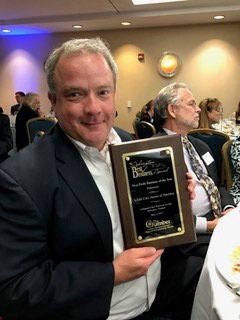 The Arlington Chamber of Commerce awarded Child Care Aware® of America with Arlington's Best Business Award for the nonprofit category at a special ceremony on May 2. The award celebrates area businesses that deliver exceptional quality of service to their customers, are industry leaders, or offer a unique approach to delivery of goods and services.
"Child Care Aware® of America is celebrating its 30th anniversary this year and is a proud member of the Arlington business community," said Steve Smith, Chief Operating Officer at CCAoA. "We look forward to continued engagement with the Arlington business community and working together to build a successful workforce for tomorrow."
CCAoA has been a member of the Arlington Chamber of Commerce since June 2016, has served as a member of the Community Action Network Committee, and staff regularly attend Chamber events in an effort to support the incredible work the Arlington Chamber of Commerce does for the community.
Currently, CCAoA is developing a pilot project that involves supporting local Arlington business owners and companies with cost-effective tools necessary to support their employees in their child care and early education needs. The project will launch in early 2018.
CCAoA's emergency preparedness team has also partnered with Arlington County to provide emergency preparedness training to child care providers. The trainings covered an overview of hazards and risks faced by child care programs, instructions on how to develop an emergency preparedness plan, steps to ensure parents are involved in the planning process, and leading practices for maintaining and updating program information. Nearly 50 Arlington County providers participated in these trainings.