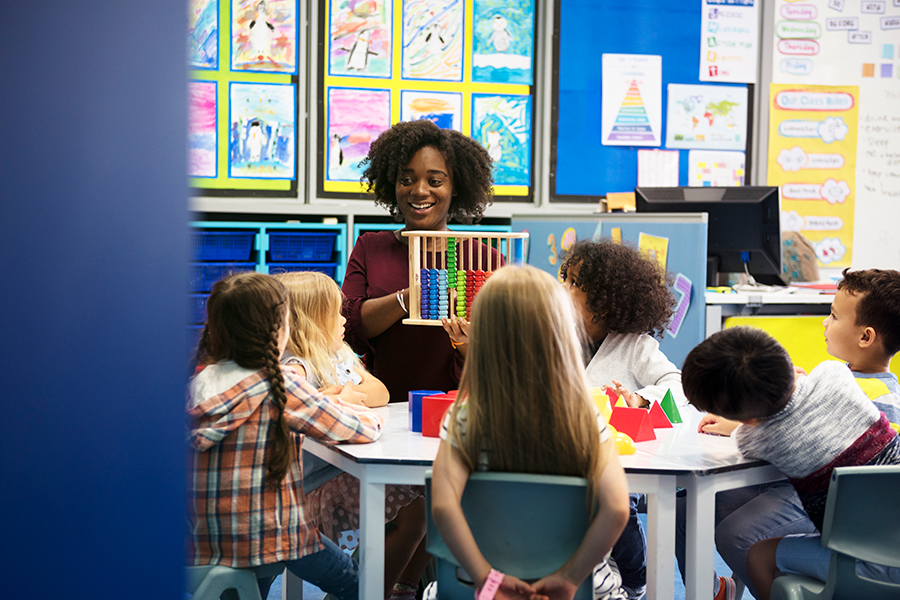 The first post in this series introduced Child Care Resource and Referral agencies (CCR&Rs) as valuable partners and guides for businesses ready to take action on child care. Let's dig a little deeper into the current context of child care in America – and then explore the basics of CCR&Rs.

The research in the U.S. Chamber of Commerce Foundation's 2017 report, Workforce of Today, Workforce of Tomorrow, backs the argument that high quality child care is critical both to adults in the workforce and their children. Seventy percent of American mothers with children are in the workforce today – and that means millions of children need high-quality, affordable child care during work hours. Further, high-quality child care has a demonstrably positive influence on a child's growth and development, now and throughout life.

A two-generation approach is needed to ensure today's workforce can make productive contributions now, while tomorrow's workforce is prepared and positioned to take on what the future holds.

America's need for high-quality, affordable child care is so great, it will take efforts by all of us to make the system work.

Child Care Aware® of America, the national membership association for CCR&Rs, has focused on the supply, demand, cost, and quality of child care for over three decades. As indicated by CCR&R and other census and demographic data, the current child care landscape presents many challenges for working parents.

The price of child care is unaffordable. Next to housing costs and college tuition, child care is one of the highest expenses a family faces.
Millennials, the largest growing workforce population, are disproportionately impacted.
More businesses are working around the clock, which means access to child care during nontraditional hours (outside the 9:00 a.m.-5:00 p.m. timeframe) is essential for working parents.
Worse yet, the overall supply of child care is decreasing at an alarming rate.
You may be thinking, if child care is so expensive, then shouldn't child care businesses be thriving?
Unfortunately, the answer is no. Many child care professionals earn so little that they qualify for government assistance to pay for child care for their own children. Child care business owners put in long hours – ensuring children receive the nurturing care they need during the day (and often during the night) and put in even more hours on administrative responsibilities well after children leave.
Simply put: the child care system is broken.
This is where you come in, and where CCR&Rs come in. Let me explain.
When CCR&Rs emerged in the 1960s and 1970s as a grassroots effort to address the massive entry of women into the workforce, they focused on helping families find child care. In the early days, they worked closely with the private sector to provide child care services directly to businesses that relied on working families.
Today is no different. There are more than 12.8 million children under age six in some form of child care in the U.S. CCR&Rs are needed as much now as when the work first began.
How CCR&Rs Help Families
CCR&Rs help take the guesswork out of choosing child care.
Trained CCR&R staff provide guidance by phone, in person, and online—all tailored to meet the unique needs of individual families.
They provide families with information about child care options, licensing requirements and how and why to access a state's Quality Rating and Improvement System (QRIS) when considering a child care program.
CCR&Rs help families access financial support for child care, including information about Child Care and Development Fund (CCDF) vouchers, Head Start, public preschool assistance programs, and tax credits.
CCR&Rs play a valuable role connecting families to other public resources like health insurance, heating assistance and food assistance.
How CCR&Rs Build the Supply of Child Care
CCR&Rs provide an entry point to child care.
They recruit and help potential child care professionals learn about licensing requirements, health and safety regulations, child development, and effective business practices.
CCR&Rs work with the public and private sector to combine resources to build and maintain the supply of quality care, targeting areas with the greatest shortages, such as infant/toddler care, nontraditional hours care, and care for children with special needs.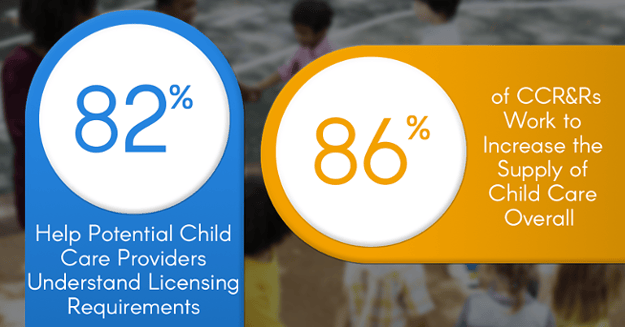 How CCR&Rs Improve the Quality of Child Care
CCR&Rs provide training opportunities to child care administrators and staff – both to meet licensing requirements and to achieve the highest levels of quality.
CCR&Rs deliver technical assistance to help professionals implement new skills and knowledge acquired though trainings.
In many states, CCR&Rs are the foundation of quality improvement support for child care professionals, offering mentorship and coaching to child care programs participating in Quality Rating and Improvement Systems (QRIS).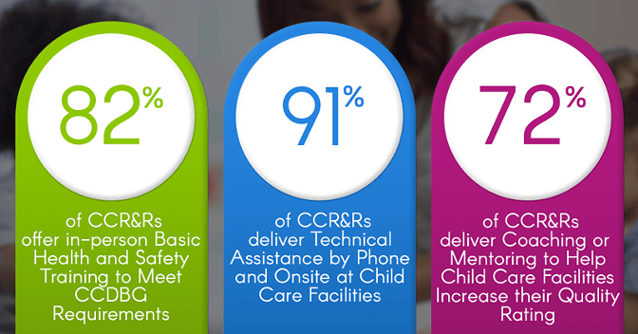 How CCR&Rs Help Identify Child Care Needs and Trends
CCR&Rs are the nation's primary source of data about child care.
They use comprehensive databases to track and monitor trends. They use this data to make informed decisions about where and how to invest resources.
CCR&Rs are well positioned to identify underserved populations and pinpoint the most significant gaps in child care supply and demand.
CCR&Rs are the primary source of data that undergird important national child care reports, including CCAoA's State Child Care Fact Sheets, our annual report on US and the High Price of Child Care

and our

Mapping the Gap