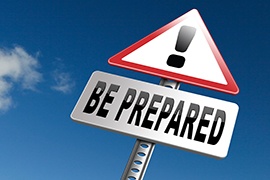 Arlington, VA – Child Care Aware® of America (CCAoA) is taking significant steps to strengthen the emergency preparedness of children and child care providers by working directly with three communities on a new two-year pilot project. Over the next two years, CCAoA will work with Child Care Aware® of Kansas, Child Care Aware® of Minnesota, and the Child Care Resource Center in Tulsa, Oklahoma to provide and deliver new trainings, technical assistance, tools, and resources.
According to a recent study, 65 percent of American households do not have adequate plans for a disaster or have no plans at all. Children make up 25 percent of the population of the United States and are among our most vulnerable during emergencies and disasters. The issues faced by families and children during disasters are compounded by the fact that most children spend an average of 36 hours a week in child care, which means there is a high likelihood that parents and their children will be separated should a disaster occur, especially during daytime hours. With the launch of this new pilot project, CCAoA will seek to bolster preparedness by working directly with child care providers and child care resource and referral agencies (CCR&Rs).
"CCR&Rs work every day to connect parents with quality, affordable, and accessible child care. They also assist the child care workforce by providing training, resources and technical assistance," says Lynette M. Fraga, Ph.D., Executive Director of Child Care Aware® of America. "Through their daily connections with parents, child care providers, and the community, CCR&Rs are uniquely positioned to serve as resilience hubs in their communities in the event of emergencies or natural disasters."
The new pilot program will work to increase the capabilities of child care centers and family child care providers in preparing, responding, and recovering from natural disasters. Over the two-year project period, a myriad of new trainings, resources, publications, and tools will be developed that are designed to better increase CCR&Rs' knowledge and awareness of preparedness, response, and recovery issues. Through the lessons learned, materials developed, and knowledge gained during this project, CCR&Rs will be better equipped to play an active role in preparedness, response, and recovery within their communities.
Three communities were selected to participate in the initiative following a request for proposals:
Child Care Aware® of Kansas, established in 1990, has 25 years of functional knowledge and experience working with child care providers to increase the quality of the care provided in 105 counties in Kansas. The state network supports four regional CCR&Rs that work locally to support child care providers, programs, and early learning staff through statewide quality initiatives and professional development events. Child Care Aware® of Kansas also works to ensure families have access to affordable, high-quality child care across the state through child care referrals and consumer education.
Child Care Aware® of Minnesota works to help families find child care and understand their care options, supports child care providers through grants and education, and informs the community on the importance of child care. The coordinating office provides statewide leadership in shaping collaborations that build a diverse, high-quality child care system.
The Child Care Resource Center (CCRC) in Tulsa, Oklahoma was formed in 1987 under the umbrella of Community Service Council, a Tulsa Area United Way Partner Agency serving the Tulsa Metropolitan Area. The mission of CCRC is "quality care for every child." CCRC supports this mission by providing comprehensive services for families, early childhood providers, and the community through information sharing, advocacy, training, service development, and education.
Visit www.childcareprepare.org for more information on the CCR&Rs as Community Resilience Hubs project.
About Child Care Aware ® of America
Child Care Aware of America is our nation's leading voice for child care. CCAoA works with state and local Child Care Resource and Referral agencies (CCR&Rs) and other community partners to ensure that all families have access to quality, affordable child care. CCAoA leads projects that increase the quality and availability of child care, offer comprehensive training to child care professionals, undertake research, and advocate for child care policies that improve the lives of children and families. To learn more, visit usa.childcareaware.org. Follow them on Twitter @USAChildCare and on Facebook at facebook.com/usachildcare.