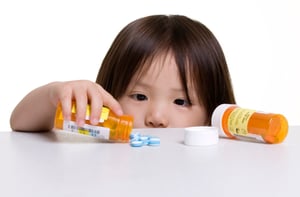 Poisoning is the leading cause of injury or death in the United States. Fortunately, there are 55 poison control centers in the United States that provide free expert information and treatment advice 24 hours a day, seven days a week. Specially trained nurses, pharmacists, and physicians staff poison control centers and provide multilingual translation services in 161 languages. Last year, Poison Control provided assistance to nearly 3 million callers.
Poisonings can occur via many ways: plants, household products, mushrooms, pesticides, pharmaceuticals, chemicals, etc. The most common route of exposure (nearly 80 percent) involve swallowing a substance, which is always a concern for children. In 2014, nearly 68 percent of exposures reported to poison control centers were treated at the exposure site, limiting the need for ambulance transport or an emergency room visit.
From March 20-26, 2016, we will celebrate the 54th annual National Poison Prevention Week. Started by Congress in 1961, this week-long celebration provides an opportunity to increase awareness of the dangers of accidental poisoning and the simple steps that we can take to decrease the risk of poisonings.
This year, National Poison Prevention Week will be celebrated with the following themes:
Monday, March 21 – Children Act Fast … So Do Poisons
Tuesday, March 22 – Poison Centers: Saving You Time and Money
Wednesday, March 23 – Poisonings Span a Lifetime
Thursday, March 24 – Home, Safe Home
Friday, March 25 – Medication Safety
Why is this important for child care?
More than half of the calls involve children younger than age 6; more than 65 percent of the calls involve children and youth aged 0-19.
Each year more than 60,000 children under age 5 receive accidental poisoning from medication.
In 2014, cosmetics and personal care products were the top substances involved in pediatric exposures.
What can you do?
Keep medications up, away and out of sight. Over 90 percent of unintentional poisoning deaths in recent years were caused by drugs and medicine.
Avoid medicine mix-ups (making sure the right adult or child gets the proper dose). Keep a schedule/checklist visible. Keep each family member's medicine in a different place. Read the label every time before giving or taking medicine.
Keep harmful products out of sight. As you know, young children will put anything they find into their mouths.
Keep products in their original, labeled containers. Store food and drinks in a separate place from medicine and cleaners.
Post the Poison Control number in a convenient location (800) 222-1222
Join the conversation.
On March 23 at 1:00 p.m. ET, the Alliance for Aging Research, in partnership with the Acetaminophen Awareness Coalition, the American Association of Poison Control Centers, the CHPA Educational Foundation, and the National Council on Patient Information & Education, will host a Twitter chat on how to safely choose, take, store, and dispose of medications. You can follow the chat by searching for #SafeMedsChat on Twitter. Learn more.
You can also follow @PreventPoison on Twitter and search the hashtags #NPPW16 and #PreventPoison.

Child Care Aware® of America is proud to be a member of the National Poison Prevention Week Council. The Council coordinates National Poison Prevention Week events and promotes poison prevention year-round. Learn more about the Council.