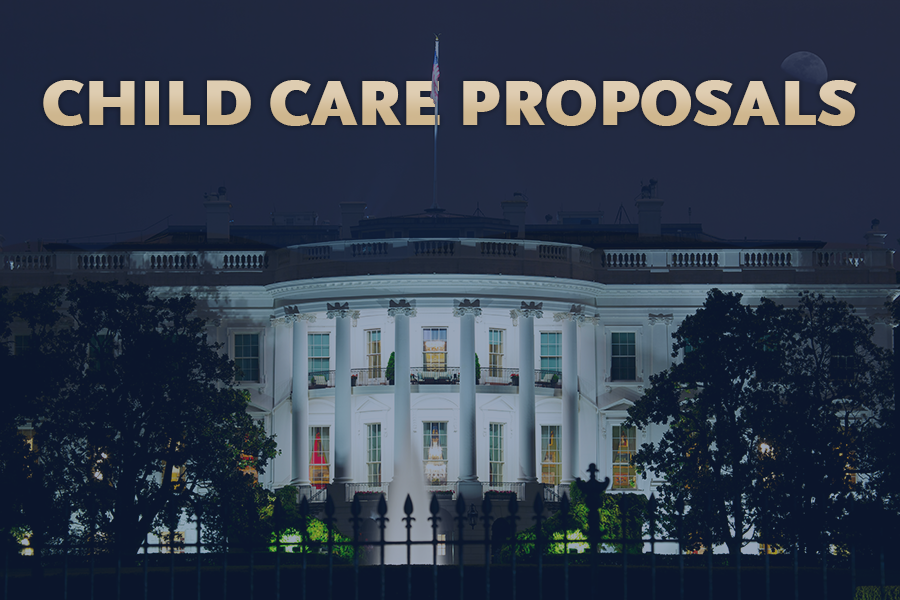 The past year showed just how essential child care is to the country and its economy. As the world reopens and parents return to work, policymakers are realizing that it is not sufficient to restore the child care sector to where it was prior to the pandemic.
We have long known that despite the considerable investments that have been made for pandemic-related relief, the solution for an equitable and sustainable child care system lies in long-term, robust investment. Advocacy efforts over the past year made it clear that immediate relief was desperately needed. But we also need to keep in mind that the child care sector was broken long before COVID-19. What it requires is long-term investment to build a system that meets the needs of children, families and providers.
Federal policymakers are stepping forward to champion child care. They are proposing big, long-term investments and identifying solutions that will transform the child care system.
This blog post, the first in our two-part series, focuses on efforts from the Administration. Since the passage of the American Rescue Plan Act, President Biden has continued to say that child care is a critical component of our nation's economy and must be supported. With news of President Biden's Build Back Better Plan, including the American Jobs Plan and the American Families Plan, and investments to support these plans through the Administration's FY 2022 budget, there's reason to be optimistic about the future of child care. So, what do these proposals include and what are the next steps to move them forward?
White House Proposals
With the goal of prioritizing the needs of families and communities and supporting our economy's growth, President Biden announced the American Jobs Plan and American Families Plan in Spring 2021. These frameworks include important investments in child care.
The American Jobs Plan and Child Care
The American Jobs Plan (AJP) contains a number of important provisions designed to create jobs, address climate change and tackle big projects that improve the country's competitiveness — also includes investments in child care facilities and in growing the supply of child care as we work to build back from the pandemic.
The AJP dedicates $25 billion to the Child Care Growth and Innovation Fund to improve and expand the supply of child care. It also sets aside $45 billion for grants to reduce lead exposure in homes, schools and child care facilities. Investments like these build the foundation of a safe, healthy, robust child care system that children will need to thrive in the future.
As CCAoA's statement on the American Jobs Plan explains, our economy requires the infrastructure of a sustainable, equitable, high-quality child care and early learning system in which children, families and educators thrive. For that infrastructure to be strong, we cannot invest only in the facilities and physical structures of child care. We know that child care works best when our educators are well-compensated, and when it's affordable for and accessible to families in all communities across the country.
The American Families Plan and Child Care
For those reasons, CCAoA was pleased to see the announcement of the American Families Plan (AFP)soon after the AJP. The AFP makes a total investment of $425 billion in child care and early learning. The framework outlined in the AFP includes multi-year funds for expanded access to child care. In addition, the Administration proposes universal pre-K, or preschool, in a mixed delivery system that includes all child care settings and ensures families can choose the best options for their children. The AFP also provides critical support for our child care workforce, committing to pay parity between Kindergarten educators and child care providers with similar credentials and experience.
The AFP also supports families and communities beyond their needs for child care by creating a national, comprehensive paid family and medical leave program, extending the expansion of the child tax credit and earned income tax credit and making higher education more affordable.
As CCAoA's statement points out, the Administration's AJP and AFP, and more, are needed to build the child care system into one that works for families, educators and communities. The AJP and the AFP are currently only proposals, with very broad strokes sketched out, and details yet to be filled in by Congress as legislators consider what to move forward.
Administration's FY22 Budget
The Administration provided some additional details about how they'd like to implement the AJP and AFP, if they became law, through their FY22 Budget. The President's budget does not automatically become law; it's sent to Congress where committees draft budget resolutions that must be passed by the House and the Senate. Eventually, Congress distributes funding. Still, the President's budget is an indication of the Administration's priorities. And for FY22, the Administration clearly indicates it sees investing in child care and early learning as priorities.
The FY22 Budget includes big increases over current spending:
To cover the cost of expanding access to

affordable, high-quality child care

, the proposed Child Care for American Families program would receive $11.7 billion in the first year, FY22 and a total of $250 billion over the next 10 years. This includes money to modernize existing facilities and expand the supply of child care. With this bold investment, families with low and moderate incomes would pay only a limited portion of their income towards child care costs for children from birth to age 5, and educators would see their compensation increase to a more livable wage on average. Families would continue to have a range of child care options from which to choose, including child care centers, family child care homes and Head Start programs.
To cover the cost of a

universal preschool program

, the budget proposes an additional $1 billion for FY22, and a total of about $172 billion over the full 10 years. This would fund preschool for all 3- and 4-year-olds whose families want to participate. The Administration estimates that 110,000 children would participate in the first year, with about five million children attending preschool classes by FY31. The proposal contains some assumptions — things the Administration accounted for and plans to cover with the requested funds. The assumptions include that teachers earn a living wage, states provide some matching funds and program development for staff is supported.
All of these programs would be administered by the Department of Health and Human Services, Administration for Children and Families (ACF), "to

streamline program administration

and enable seamless service delivery at the family and program provider level." ACF already administers and supports the largest federal early learning programs, including the Child Care & Development Fund, the Preschool Development Grant (Birth to Five) and Head Start.
What's next?
This leadership from the President and the Administration is vital to ensuring policy proposals move forward. But at the end of the day, it's up to Congress to finalize legislation, craft a budget, pass these proposals into law and send them to the President to sign. Negotiations are fierce between legislators and the White House right now, which means our advocacy is more important than ever.
Congress needs to hear a clear message: Our families and communities, who power our economy, need access to affordable, high-quality child care and early learning. Invest in child care today.