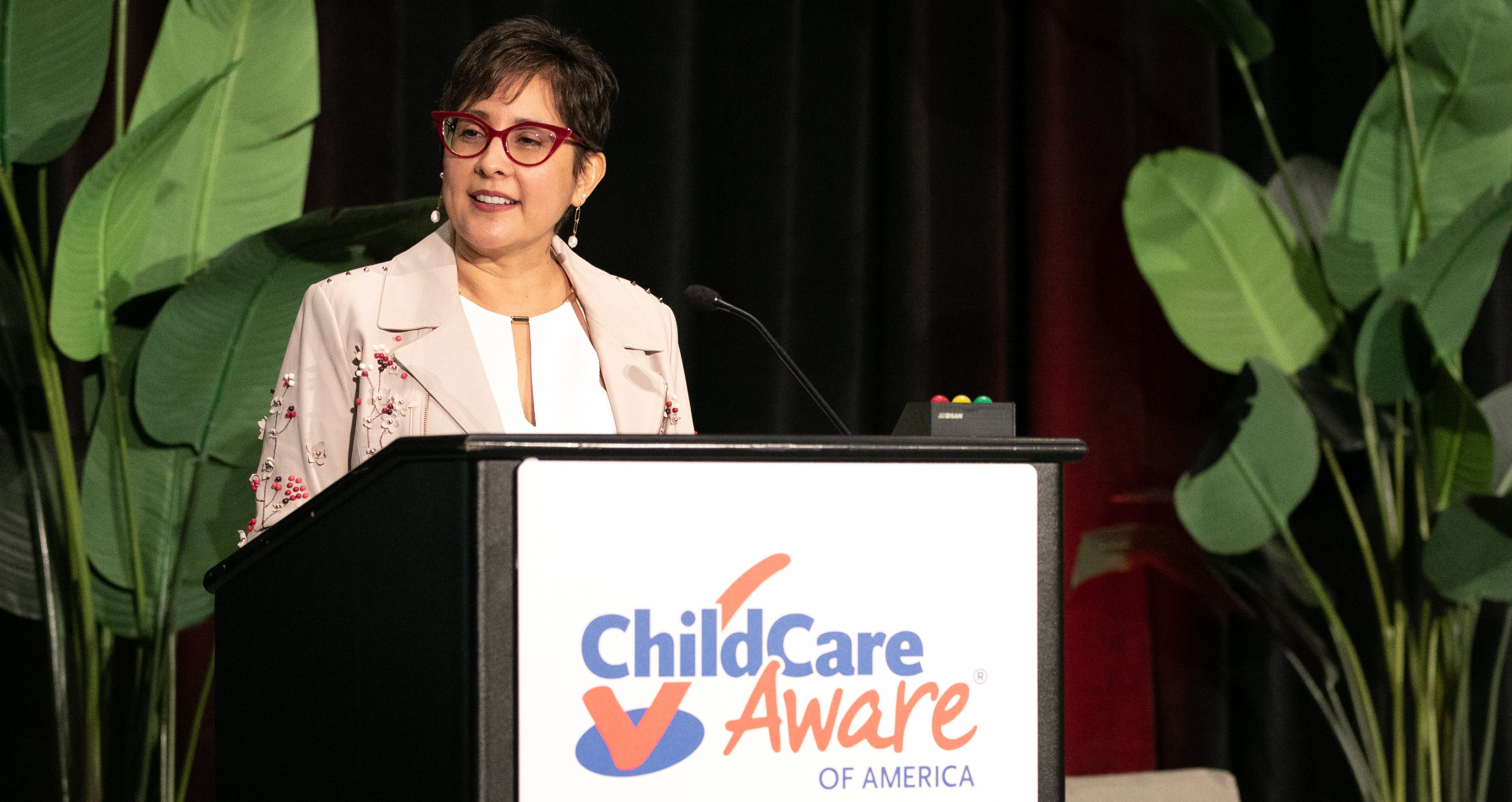 Lynette M. Fraga, Ph.D.
Chief Executive Officer, CCAoA
Dear Friends and Members of CCAoA:
When I came to CCAoA 10 years ago, I raised up the need for us to lean into the big assertion, embodied in our tagline, that we are "the nation's leading voice for child care." My vision for child care included what I felt was a necessary focus on early childhood health, well-being and mental health, with a clear commitment to underserved populations and a ferocity to fight for every child. In doing so, we needed to embrace children and their families, recognize their unique experiences, strengths and resiliencies, and advocate for those who face deep-rooted challenges and systemic injustices when they are far too young.
The iconic report, From Neurons to Neighborhoods: The Science of Early Childhood Development (National Research Council and Institute of Medicine; Committee on Integrating the Science of Early Childhood Development), which was published more than 20 years ago, stated as its 10th Principle: "In the final analysis, early childhood intervention is viewed most appropriately as an individualized strategy designed to increase the probability of a desired outcome, and not as a developmental panacea for all children under all circumstances. It is the 'art of the possible,' based on the science of early childhood development."
The art of the possible.
For 20 years, that phrase has stuck with me and for almost as many years I have used the phrase over and over again. To me it means creativity, innovation and possibility. The possibility to meet the needs of children and families. The possibility to achieve what we believe can be achieved: that each and every child – if we do what needs to be done – can actually BE the "art of the possible."
I asked that we, as an organization and a field, consider family context and experiences in our work, including ensuring diversity in our thought and equity in our actions. I also asked that we interrogate our systems in communities and embed equity and justice at their core. And we continue to learn how this plays out, how we get this done better. How we hold ourselves accountable in their redesign, and how we act not from a place of "knowing it all" as proclaimed experts, but rather from a place of curiosity, humility and liberation.
I felt, and continue to feel strongly, that community-based organizations, like child care resource and referral agencies, have a central and catalytic role to play in the transformation of systems of care.
Delores Huerta said, "Every moment is an organizing opportunity, every person a potential activist, every minute a chance to change the world."
Unfortunately, it often takes a crisis or tragedy to force the hand of change. Crisis is not only a chance to change the world; it is a necessary opportunity to save the world. In our case, it took a pandemic to expose to a wider audience the injustices and realities rampant in our broken systems of care.
So, we took action.
Your voices demanded the public understanding that child care is infrastructure. You influenced the media and the public narrative.
We collectively secured, in the federal relief bills, $50 billion. We got real money to real programs; not perfectly and not for the long term, but as a policy initiative unlike any other. One that was more respectful of the workforce, a more centered approach, with cash in the hands of programs and relief for families. You fought for and made this happen.
Even as we didn't see "Build Back Better" pass and child care was left out of the Inflation Reduction Act, we did receive a lot of validation in this fight. We got very close because of you. Last week, the Consolidated Appropriations Act, 2023 (H.R. 2617) included increased funding for the Child Care and Development Block Grant. We look forward to working with the incoming Congress and the White House to craft policy solutions and advance investments that make a difference in the lives of children, families, providers, and communities.
In addition, some states are stepping up and there is good momentum in many instances. There have even been surprises. Some states are investing their own money in these programs. Some governors are stepping up. You fought for and made this happen.
The field of advocates has grown even as we worked through the exhaustion. We've changed many hearts and minds and we've won so much support that our collective voice is changing child care. You fought for and made this happen.
As we've done throughout our more than 35-year history, we will build on the foundation we have laid. We will incorporate lessons learned. We will fight the fight, building on what we have accomplished, the legislation we have passed and the investments we fought hard to secure.
Child Care Aware® of America is strong. We are a vital voice for the issues we care deeply about. From the reauthorization of the Child Care and Development Block Grant in 2014 to the tremendous crisis response during the COVID-19 pandemic, I could not be prouder of the work we have done over the last decade and the impact we have achieved together -- our Board, our staff, our membership and our partners.
And now we reimagine and move closer to transformation.
I have hopes for this reimagined future for children, families and communities. I embrace these hopes with what I hold dear: the pursuit of justice and the "art of the possible" in early childhood programs, services and supports.
In order to meet the promise of these hopes, we need to do the work of addressing inequities; we need to do the work of unpacking the systemic injustices in our own child care systems; and we need to do this work in interrelated systems and policies in education, health and mental health, child welfare, paid family leave, and so on. We need to do the work of partnership, true partnership, with communities; we need to do the work of true accountability; we need to do the work of acting with humility; we need to do the work of relationships, compassion and … connection.
Michelle McCready has been named interim CEO of CCAoA. Having worked with her during my entire tenure with the organization, I am confident in the deep knowledge, commitment and strong leadership she brings to steward the organization through this transition period. The CCAoA Board of Directors, chaired by Dr. Renée Boynton-Jarrett, is undertaking the critical role of searching for a new CEO and our incredible staff continue to do tremendous work each and every day in service to our mission.
Thank you for the honor of working with all of you over the last decade. It has been a privilege and a joy! I cannot wait to see the creative force each of you and CCAoA brings in the coming years to make "Art of the Possible" a reality for all our children and families.