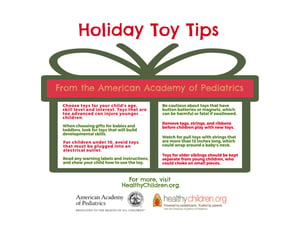 The holiday season is a great time for family, friends and fun. It's also a time for giving gifts, especially for our excited little ones. When purchasing toys for our little ones, it's important that they are not only age appropriate but safe.

In 2017, there were an estimated 251,700 toy-related injuries treated in U.S. hospital emergency departments, according to the U.S. Consumer Product Safety Commission. An estimated 89,800 (36 percent) happened to children younger than 5 years of age.
The American Academy of Pediatrics (AAP) offers these tips to help parents and other gift givers make smart choices for children.
Select toys to suit the age, abilities, skills and interest level of the intended child. Toys too advanced may pose safety hazards for younger children.
Before buying a toy or allowing children to play with a toy that he or she has received as a gift, read the instructions carefully.
To prevent both burns and electrical shocks, do not give young children (under age 10) a toy that must be plugged into an electrical outlet. Instead, buy toys that are battery-operated.
Young children can choke on small parts contained in toys or games. Government regulations specify that toys for children under age three cannot have parts less than 1 1/4 inches in diameter and 2 1/4 inches long.
Children can have serious stomach and intestinal problems – including death – after swallowing button batteries or magnets. In addition to toys, button batteries are often found in musical greeting cards, remote controls, hearing aids, and other small electronics. Small, powerful magnets are present in many homes as part of building toy sets. Keep button batteries and magnets away from young children and call your health care provider immediately if your child swallows one.
Children can choke or suffocate on uninflated or broken balloons; do not allow children under age eight to play with them.
Remove tags, strings, and ribbons from toys before giving them to young children.
Watch for pull toys with strings that are more than 12 inches in length. They could be a strangulation hazard for babies.
Keep older kids' toys away from young children.
For additional toy safety tips, how to store your child's toys after play, finding the perfect toy for the right age, and to sign up for product recalls, visit Safe Kids Worldwide.