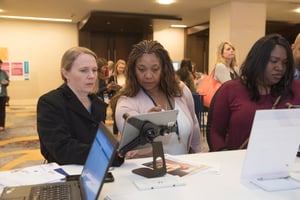 We were absolutely thrilled to have almost 400 attendees from 41 states join us for this year's Child Care Aware® of America 2018 Symposium April 17-20 at the Marriott Marquis in Washington, D.C. We celebrated 30 years of passion and persistence and ignited possibilities! This biennial event brought child care experts, Child Care Resource and Referral leaders and staff, child care providers, researchers, policymakers, parents, students, and anyone interested from across the country come together to discuss the hottest topics of research, policy, and practices of interest to the early child care and education community.
In celebrating 30 years of our shared commitment to children and families, we brought new and exciting opportunities to this year's Symposium. This year, for instance, attendees were excited to have tracks focusing on key areas of interest. We offered art experiences to center our minds and activate creativity, one-on-one technical assistance support for our members and so many wonderful highly-attended sessions and plenaries. Attendees, for instance, were one of the first to hear from the National Academies of Sciences, Engineering, and Medicine's Committee about their newly released financing report, "Financing Early Care and Education with a Highly Qualified Workforce."
Here are just a few highlights from this year's event:
At our Meet the Board reception, we presented Rep. Bobby Scott (D-VA) with the Congressional Children's Champion Award for his diligent work introducing the Child Care for Working Families Act.
We had a lot of newcomers! So our Newcomer Session was PERFECT in warming our newbies up as they got ready to plunge into all of the great networking, advocacy and learning opportunities at the Symposium.
At our annual Day on the Hill event, we visited more than 400 offices, including Sen. Patty Murry's (D-WA) to present her with the Congressional Children's Champion Award for working alongside Rep. Bobby Scott (D-VA on the Child Care for Working Families Act.
Our Luncheon Plenary included a sneak peak of the film, "No Small Matter, is a feature-length documentary film and national engagement campaign that brings public attention to critical questions by sharing powerful stories and stunning truths about the human capacity for early intelligence and the potential for quality early care and education to benefit America's social and economic future. It was incredibly heartbreaking and heartwarming at the same time – not a dry eye in the house!
Congratulations to our Skolnik Award winners: Theresa Rapstine from Healthy Child Care Colorado and Joy Lyon from the Association for the Education of Young Children – South.
Our 30th anniversary Gala with our Master of Ceremonies, Sasheer Zamata, was a great time to celebrate with those who have paved the way for the child care field including previous executive directors of CCAoA, CCAoA staff, parent advocates, veterans to the field and professionals who were new to the field. Special thanks to the Bezos Family Foundation who received the Children's Champion Award at our 30th Anniversary Gala.
If you didn't have a chance to attend, don't worry! You can download the handouts and presentations.
[efsbutton style="" size="" color_class="" align="left" type="link" target="false" title="Download Handouts and Presentations" link="https://info.childcareaware.org/2018-symposium/presentations"]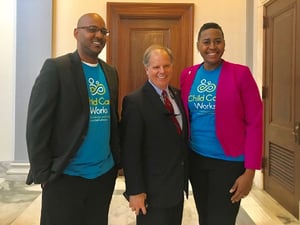 Also, please take a look at an opinion editorial written by two of our parent advocates, Andy and Temetria Danzler from Alabama. They were able to make a lasting first impression with their memorable child care story.
[efsbutton style="" size="" color_class="" align="left" type="link" target="false" title="Read Their Story" link="https://medium.com/@ChildCareWorks/alabama-family-advocates-share-their-stories-with-congress-c40e6a7a299c"]
A special shout out to our sponsors as well! We could not have had the successful event without you. Thank you for submitting your ads,tributes and supporting our overall event.