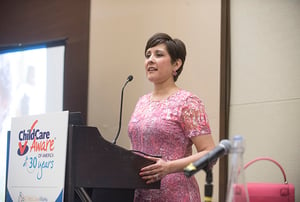 WASHINGTON, DC — Dr. Lynette M. Fraga, executive director of Child Care Aware® of America, issued the following statement on changes the House Agriculture Committee has approved for the Supplemental Nutrition Assistance Program (SNAP) in the current version of the House Farm Bill (H.R. 2):
"SNAP benefits are a national safety net for poor families faced with the choice of either paying rent or buying groceries. More than 42 million people each month depend on SNAP. The program does more than simply stave off hunger, it also helps families buy nutritious food and make healthy food choices on limited budgets.
Cuts in SNAP would be felt by children in our most vulnerable families, by the caretakers and teachers who serve them, and by retailers of every size in every state. The $70 million in SNAP redemptions in 2014 (the most current year available) account for 10 percent of all food purchases nationally.
In states with the most SNAP participants, the share of beneficiaries in small towns and rural areas is greater than in cities. That means families -- and retailers -- in those small towns and rural areas would be hit hardest.
We join with anti-hunger advocates nationally in urging our representatives to pass a farm bill that protects and strengthens SNAP, which is a critical program that protects our most vulnerable fellow Americans from hunger."
# # #
About Child Care Aware® of America
Child Care Aware® of America is our nation's leading voice for child care. CCAoA works with state and local Child Care Resource and Referral agencies (CCR&Rs) and other community partners to ensure that all families have access to quality, affordable child care. CCAoA leads projects that increase the quality and availability of child care, offer comprehensive training to child care professionals, undertake research, and advocate for child care policies that improve the lives of children and families. To learn more, visit usa.childcareaware.org. Follow them on Twitter @USAChildCare and on Facebook at facebook.com/usachildcare.