The 2018 hurricane season is almost upon us and Child Care Aware® of America wants to ensure that you and those for which you care are ready!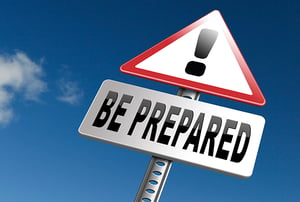 According to the National Weather Service, in the Eastern Pacific Ocean, hurricane season begins on May 15 and ends November 30, while the Atlantic hurricane season officially starts on June 1 and will run through November 30.
Hurricanes may be on the minds of many because of what we saw last fall. In total, there were ten hurricanes in 2017, 17 named storms, and for the first time on record, three Category 4 hurricanes that made landfall in the United States: Harvey, Irma and Maria. September 2017 was the most active month on record for Atlantic hurricanes.
As for what to expect this year, the AccuWeather forecast is predicting a near normal to slightly above-normal year with between 12-15 tropical storms during the 2018 Atlantic hurricane season. Of those storms, 6-8 are forecast to become hurricanes and 3-5 are forecast to become major hurricanes.
Preparing and planning now mean you will be ready should your area be affected by storms.
What You Can Do to Prepare Today
Being prepared is essential, so use the below guide as a way to start getting ready.