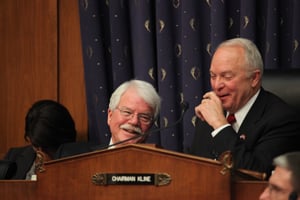 The House Education and the Workforce Committee, chaired by Representative John Kline (R-MN) recently announced that the Committee will hold a hearing on CCDBG Reauthorization after the Senate approved legislation by a vote of 96-2 to reauthorize the Child Care and Development Block Grant (CCDBG) program.
Chairman Kline released this statement following the passage of the Senate bill:
"Senate passage of legislation to reauthorize the Child Care and Development Block Grant is a step forward in the shared goal of strengthening the nation's existing network of early childhood services. The bill includes several commonsense provisions that will help empower parents and enhance coordination between CCDBG and other federal early care programs, such as Head Start. The committee will convene a hearing on March 25, 2014 to examine House priorities for CCDBG, and I look forward to a productive discussion as we work to find common ground and complete the reauthorization of this important program."
During the hearing, the Committee members will hear from 4 panelists, including Paula Koos, Executive Director of the Oklahoma Child Care Resource & Referral Association, Inc.
The hearing took place on March 25th, 2014 at 10 a.m. EST.