Linda K. Smith, Deputy Assistant Secretary and Inter-Departmental Liaison for Early Childhood Development for the Administration for Children and Families (ACF) in the U.S. Department of Health and Human Services(HHS), received the Sandra J. Skolnik Public Policy Leadership Award during the opening session for the Child Care Aware of America 2014 Symposium, Wed April 2.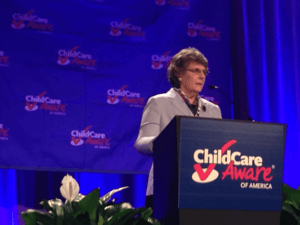 Linda's acceptance speech brought the nearly 300 attendees to their feet as she praised the Child Care Resource and Referral Community for their hard work to help the country advance its child care policies, as evidenced by the Senate passing the Child Care and Development Block Grant (CCDBG) Reauthorization just weeks ago. "The country understands the importance of quality child care," Linda said.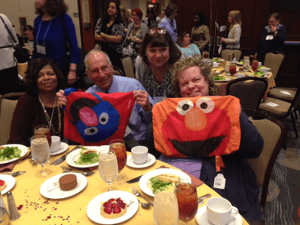 The day was filled with celebratory moments. From photos with the Walkaround Cookie Monster provided by Sesame Workshop to simply being in the nation's capitol for the first time.
"The opening was very well done," said Yuoeven Whistler, with Crystal Stairs, Inc in Los Angeles, CA. "The award for Linda was very moving and a great way to start the day."
Too Small to Fail

Ann O'Leary, Vice President of Next Generation and Co-Director of Too Small to Fail, a joint initiative of the Next Generation and the Bill, Hillary and Chelsea Clinton Foundation, opened the event as the first keynote speaker.
"Children can make terrific gains if they have access to high quality child care," she said.
Recalling her experience trying to get her child on a wait list for a quality child care center she said, "My wish for all parents is that they can search online and know they can find licensed child care and that a license means something."
Ann added, "Quality early learning is not only about bridging an achievement gap, but it's an economic issue."
Breakout sessions
With nine breakout sessions following the opening luncheon, attendees had lots of options. From Family Engagement to Early Head Start-Child Care Partnerships to Coaching Preschool Providers to success - every session was full.
"I could have listened for another hour," said Nancy Thomson, from Child Care Connection in New Jersey. "With all the resource and referral agencies doing the technical assistance for QRIS, the session by Los Angeles Universal Preschool (LAUP) really showed an ideal picture of what we all should have. They have a lot of financial resources and put a lot of professional development into the staff working with the providers."
Federal Panel
The day ended with a Federal policy update from Shannon Rudisill, Director of the Office of Child Care in the Administration for Children and Families under the U.S. Department of Health and Human Services and Steven Hicks, Senior Policy Advisor at the U.S. Department of Education in the Office of Elementary and Secondary Education.
Many questions surrounded the Early Head Start- Child Care Partnerships. The panelists said they were encouraged that the program would help build relationship between EHS and child care advocates. Learn more about EHS-CC.
Preparing for Day on the Hill
A room packed full of representatives from states across the country gathered for the final meeting of the day to prepare for Day on the Hill. They prepared their talking points and picked up their Hill packets. But mostly, they were ready to thank Congress for supporting CCDBG and the many other positive policy actions taken throughout the past year on behalf of children and families.
1K for Kids

For those here in DC and at home, we've challenged everyone to make their voice heard for children. We're asking everyone to help generate 1,000 actions for kids - or 1K for Kids - throughout Symposium.
In just a few hours we were nearly a quarter of the way to our goal! You generated more than 220 tweets, Facebook posts, likes, and shares with #RYH4ChildCare.
Preparing for Hill meetings about reauth #CCDBG tomorrow with @SenRandPaul @Team_Mitch and @RepThomasMassie #RYH4ChildCare @USAChildCare

— Julie Witten (@juliecwitten) April 3, 2014