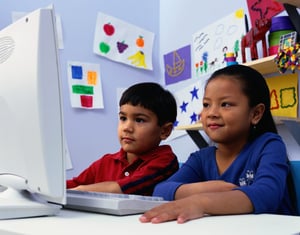 For years Child Care Aware® of America has shared one message: affordable, high quality child care matters. It matters for children and it matters for families.
This year, the White House took notice, with President Obama making expanded opportunities for high quality child care and early learning not just a part of his policy agenda, but a central focus of that agenda so that "none of our children start the race of life already behind."
This unparalleled attention to an issue that impacts the more than 11 million children in out of home care was met with welcomed hope and renewed inspiration.
Perhaps finally our pleas for focus and attention to quality and safety would be heeded.
Maybe all states that participate in the Child Care and Development Block Grant (CCDBG) would have to ensure minimum health and safety standards in their programs.
Perhaps training, which is currently required in only half of the states would be extended to all.
Maybe states would be expected to conduct routine inspections more frequently than every 5 or 6 years and background checks would be conducted on all who accept a fee for child care.
President Obama embraced this challenge early on, sharing his vision for a quality early learning system for all in his 2013 State of the Union address; promoting early learning as an economic development strategy and as essential to ensuring that children enter school ready to learn so we can prevent achievement gaps before they begin.
It didn't end there. He backed it up with a promise to fund states who embraced quality. He proposed new regulations for CCDBG, a program which hadn't been reauthorized in more than 17 years.
Later, in his budget, President Obama proposed a new $75 billion investment in a high quality, coordinated early learning program that would ensure all children would have access to preschool. The Obama administration leadership shed light on how few children have access to quality child care and that state laws vary greatly. They did so by focusing attention on five areas:
Improving the Quality of Child Care: Access to affordable, safe, quality child care is essential for all families: without it, many families are left with the untenable choice of leaving their children in substandard care, or risk losing their jobs. New comprehensive rules proposed by the Obama administration are pending and have been echoed in the first bi-partisan reauthorization proposal for CCDBG in more than 17 years. The proposed rule and CCDBG reauthorization set the stage for significant improvements in 2014 for the largest program funding child care services in the United States.
Early Head Start-Child Care Partnerships: The President also announced plans to expand the supply of early learning for children from birth to age 3 by making a $1.4 billion investment in Early Head Start-Child Care Partnerships. This means Early Head Start grantees would partner with child care providers who agree to meet high standards of quality.
Preschool for All: In his State of the Union address, President Obama called on Congress to expand access to high-quality preschool to every child in America. As part of that effort, the President will propose a series of new investments that will establish a continuum of high-quality early learning for a child – beginning at birth and continuing to age 5. By doing so, the President would invest critical resources where we know the return on our dollar is the highest: In our youngest children.
Empowering Parents: We all know the important role that families play in promoting the healthy development of their children, yet not all families are equipped with the information and support they need to create positive environments for their children to develop and learn. The Maternal, Infant and Early Childhood Home Visiting Program created under the Affordable Care Act expands evidence-based home visiting programs in states to serve the most vulnerable children and families to better ensure that children are healthy and prepared for school and life. The President put forward a proposal to extend funding of this $1.5 billion program for another 10 years in the 2013 State of the Union address.
Raising the Bar for Early Learning through Race to the Top Early Learning Challenge grants: The Obama administration has invested in comprehensive improvements to state early learning systems through Race to the Top: Early Learning Challenge (RTT-ELC), a new competition that challenges states to deliver better coordination, clearer learning standards, and meaningful education and training for early educators. This program represents an unprecedented opportunity for states to focus on early learning and development systems in their states and build a more unified approach to supporting young children and their families to make sure that more children, especially those with high needs, enter kindergarten ready to succeed.
We have much to be thankful for, and yet much more to do. Last year was a launch pad for action in 2014. Major legislation has been introduced and needs our sustained voices to gain momentum and convey the sense of urgency needed to propel it into law.
Child Care Aware® of America is not alone. We stand with hundreds of other committed organizations who share the same mission and goal. We stand with the parents and children whose stories tell us why we must demand action from decision makers. Child Care Aware® of America has raised its hand and stands at the ready to make those decisions happen. Raise your hand. Stand with us in 2014.