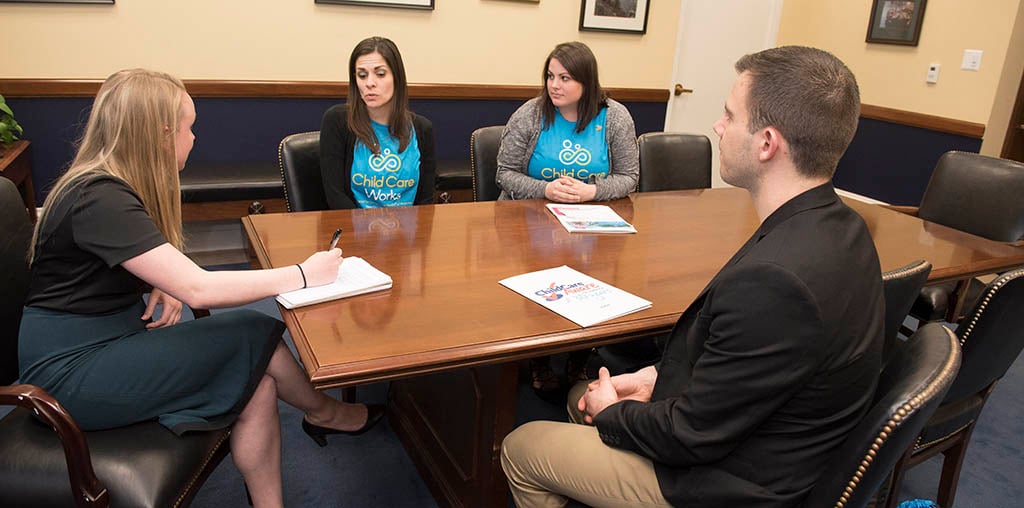 This year, Child Care Aware® of America (CCAoA) will host our first Child Care Works (CCW) Summit in Washington, DC on April 3-4. The summit is an abridged version of our regular biannual Symposium and will welcome Child Care Resource and Referral (CCR&R) agency staff, child care providers, family advocates and other partners for a full day of trainings and sessions followed by our annual Day on the Hill event.
Whether you are a regular attendee of our events or you are considering attending for the first time, there are many reasons why you should attend this year, in particular:
Professional Development Opportunities
Check out the Child Care Works Summit agenda to get a glimpse into the types of sessions we're offering attendees. You can attend a session on "How to Advocate Without Lobbying" – specifically on how to navigate a relationship with your CCDF administrator. And later, you can join a Media Workshop led by our Senior Manager of Public Relations, RaeAnn Pickett. During this session, you will gain more confidence on talking to reporters and on how to share information with them, nailing a media interview, and building your brand with the press. Also at the CCW Summit, will be opportunities to learn how to build a family network and come up with your Day on the Hill Game plan.
Advocate on the Hill for Issues Important to You
For the past ten years, CCAoA has provided scholarships for parent and family advocates to come to Washington, D.C., and to share their powerful stories with lawmakers during our annual Day on the Hill. This year, we will welcome close to 30 advocates from across the country. While their stories may vary, they all share one common thread: to ensure that all U.S. families have access to high-quality and affordable child care. If parent advocates from your state are joining us at the summit, you will visit your lawmakers together. This is a valuable opportunity to get to know the families and brainstorm ways to work together in your own state.
Even if you are not paired with a parent advocate, you will advocate directly to lawmakers – many of whom are newly elected to office. It is critical this year to educate Congress on our issues and emphasize the importance of a funding increase for CCDBG. The November election resulted in the highest rate of member turnover since its 2014 reauthorization, and new lawmakers need to hear from your state – from you – that, despite the generous 2014 increase, CCDBG is still underfunded and that returning it to previous funding levels would be disastrous for children and families.
Networking with Peers and Experts in the Community
In today's digital world, there's something powerful about making in-person connections. The summit allows you the opportunity to share with and learn from other attendees, talk about the important issues you're tackling back home, or just catch up over coffee. We all get bogged down in our day-to-day schedules, so take this opportunity to connect with old colleagues, forge new relationships, and return home with fresh ideas and inspiration. You'll also connect with CCAoA staff at our Networking Reception on April 3 and throughout the summit.
If we haven't convinced you yet, the Cherry Blossoms typically peak around in the beginning of April. So you can also enjoy one of DC's most beautiful times of year – when the Tidal Basin is bursting with color! We hope to see you at the CCW Summit!