Provider Appreciation Day® 2022 was celebrated on May 6. In the conclusion to this blog series for Provider Appreciation Day®, we're highlighting how communities are honoring the contributions of their child care providers. Sign up to be a supporter for 2023 so you can be notified of new resources to plan your celebration.
A fragile child care system – exacerbated by the pandemic – made this year's Provider Appreciation Day even more poignant.
What does Provider Appreciation Day® look like? The answer is: it depends! And that's what makes it great. Provider Appreciation Day® celebrations reflect the uniqueness of each community.
If you're thinking about planning for next year already, you can sign up here and see below to get some ideas for your community's next celebration.
Offering self-care resources and thank you gifts. Many community organizations, including Child Care Resource and Referral (CCR&R) agencies, delivered gift baskets, fresh flowers and organizer giveaways to child care providers in their community. Small acts of gratitude help child care providers feel acknowledged and supported. PATCH Hawaii, a CCR&R supporting family child care provider across the Hawaiian Islands, even offered a massage workshop and a spring wreath-making workshop to help providers unwind.
The Early Childhood Alliance, based in Park City, Utah, spent the day driving gift baskets and flower bouquets to various child care locations.
Collecting and sharing messages of gratitude. It doesn't cost anything to say thank you. The Maryland State Department of Education compiled a video featuring thank you messages. As Dr. Deann Collins, Dept. Supt of Teaching and Learning, shared, "[child care] is critical to our families, to our economy and to the fabric of our state and nation."
The California Child Care Resource & Referral Network produced this fun thank you video in English and Spanish, which includes personalized messages from people across the state:
This year, over 40 individuals recorded a personalized message of gratitude through the Provider Appreciation Day website. Watch them here:
Families participating in the Navy Exceptional Family Member Respite Care Program recently shared messages of gratitude for the child care providers that support their families. Shared one Navy family from Yulee, Florida: "My husband was deployed and I was going through the start of my own medical battle. Being a parent with special needs children is nothing new for any of us in the program...I desperately needed a break and in walked Towana, a bright shining star who melded perfectly with our family."
Asking state and local officials to acknowledge and support child care providers through proclamations and legislation. This year, 12 governors issued proclamations declaring May 6 as Provider Appreciation Day®. Numerous local communities and public offices announced proclamations of their own. Additionally, more than 35 Members of Congress showed support on social media using the #thankyouchildcare hashtag. Provider Appreciation Day® offers the opportunity to bring awareness to the issues and needs of the child care profession, as well as acknowledging their contributions to supporting the economy and the workforce.

Pictured above: (left) The state of North Dakota issued a proclamation for Provider Appreciation Day, and (middle and right) child care professionals from The Oaks Children's Academy accepted a proclamation from the Mayor of Charleston, South Carolina.
Partnering with business and community leaders to demonstrate wider support for child care professionals supporting the workforce. Go beyond the child care businesses in your community. Identify community-based organizations like your local YMCA, YWCA or Chamber of Commerce and find out how local businesses are supporting child care providers. Do you know of an employer that offers great child care benefits? See if they are willing to participate in a Provider Appreciation Day® celebration. If you're organizing an event, notify your local media outlets and encourage them to cover it for an upcoming article or TV story.
Celebrating child care providers all year round. Provider Appreciation Day® is a great place to start if you're looking to show your support. But child care providers deserve support all year-round. How can you do this? Connect with your local CCR&R agency (locate yours here). These networks can help identify what resources child care providers and families might need, and even help you identify events you could volunteer with.
Family Connections MT, a CCR&R, offers day-long symposiums, book fairs, giveaways and social media shout-outs throughout the year to show their support. Shared Deb Heustis from Family Connections MT, "Our providers work hard every day. They put in long hours, work on the weekends, and work late into the night to ensure they are providing the best care and education to children in their care. Providers work through the [pandemic], showing everyone the important role they play in the infrastructure and economic success of our communities."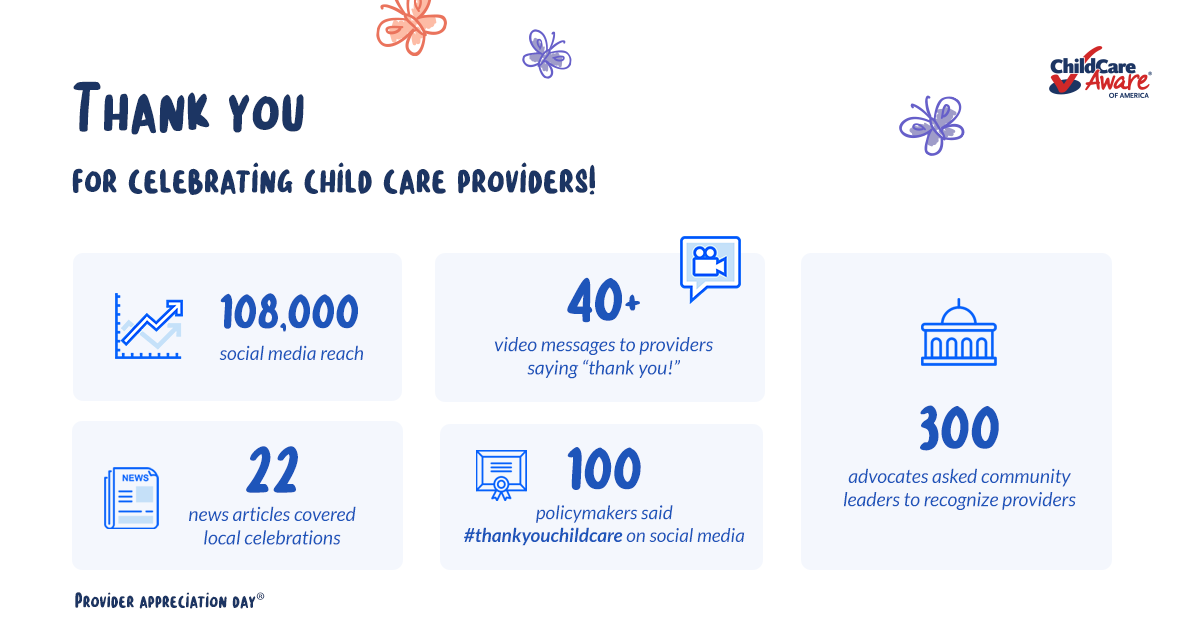 Finally, We Need Your Voice
Communities came together on May 6 for a collective day of gratitude, support and advocacy on behalf of our nation's child care providers. But it doesn't have to be limited to just one day. Connect with Child Care Aware® of America to support CCR&Rs and providers year-round.
And it's not too early to begin planning for 2023. Next year, Provider Appreciation Day® will be held on Friday, May 12. Sign up now to get notified with details and resources for next year.