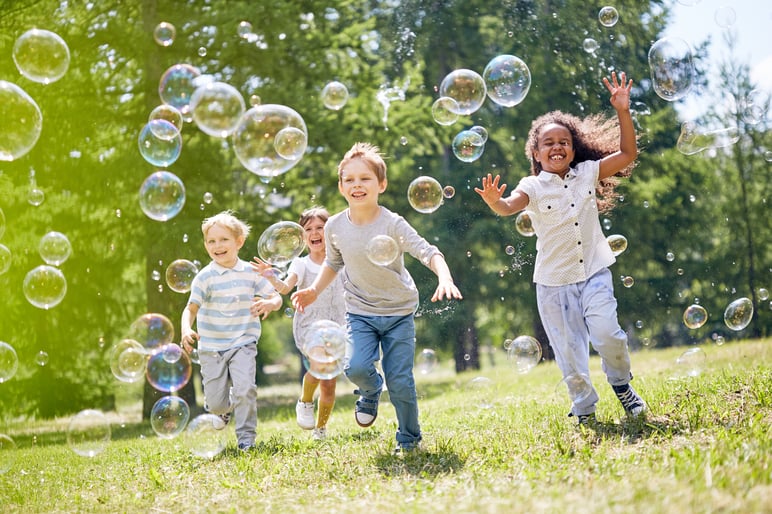 As we approach Provider Appreciation Day® (May 6, 2022) we are highlighting how communities are honoring the contributions of their child care providers. Sign up to be a supporter and get resources to plan your celebration.
With Provider Appreciation Day® right around the corner (Friday, May 6), it's a good time to highlight the ways child care providers are champions of our children's health. They ensure the spaces where children spend most of their time are safe and conducive to learning!
Health and the Environment
The science linking poor health to exposure to environmental hazards like lead and pesticides is strong and continues to grow. Harmful household chemicals, lead and pesticides have been found in child care facilities--putting children and staff at risk. We applaud efforts taken by child care programs to eliminate these threats and improve the health and safety of children and staff.
The populations that utilize and work within child care facilities are more vulnerable to and more likely to be exposed to environmental hazards. Children are more susceptible than adults because of their developing bodies and behaviors like mouthing items, crawling, sitting and laying on the ground. Approximately 40% of the child care workforce is women of color. Many providers are also low-income. These factors puts child care providers at higher risk for being exposed to environmental hazards, resulting in poor health outcomes.
High-quality child care, free of environmental hazards, is vital to keeping children healthy.
Eco-Healthy Providers
Child Care Aware® of America collaborates with programs like Eco-Healthy Child Care® to raise awareness and celebrate the ways child care programs are ensuring safe and healthy environments for children and providers.
Eco-Healthy Child Care® endorses facilities (center and family child care) that comply with 30+ simple, free or low-cost environmentally healthy best practices. These eco-healthy changes immediately benefit the well-being of young children and staff and create healthier early learning settings. To date, more than 2,700 facilities serving over 70,000 children have qualified as eco-healthy.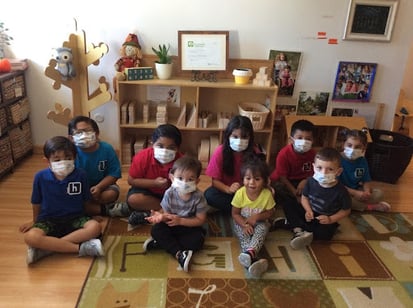 Photo courtesy of Little Blossoms Childcare, Chula Vista, CA
Little Blossoms Childcare is an Eco-Healthy-endorsed family child care in Chula Vista, California. Owner and provider Miren Algorri has been involved in the early care and education field for 30 years! At Little Blossoms, they've adopted the following eco-healthy practices to create a healthy learning environment:
Use of safer cleaning products--3rd party certified (Green Seal, UL EcoLogo® or EPA's Safer Choice); 

Purchased solid wood furniture to reduce exposure to harmful formaldehyde; and 

Installed an indoor thermometer that checks temperature and humidity to prevent mold growth.
The benefits of being an eco-healthy provider include cost savings from eliminating unnecessary harmful products, e.g., air fresheners or pesticides, and a healthier and more resilient child care staff (i.e., fewer sick days) due to fewer harmful environmental exposures.
Child care providers that are endorsed by the Eco-Healthy Child Care® program are leading the industry and going above and beyond required child care standards and regulations to protect the health of staff and the children within their care. We celebrate and thank them for their efforts!
Eco-Healthy Tips
Eco-Healthy Child Care® endorsed providers follow these best practices.
To ensure healthy indoor air quality:
Increase natural ventilation by opening screened windows and doors when outdoor air quality allows; 

Make sure the heating, ventilation and air conditioning (HVAC) system is properly maintained via yearly checkups by an HVAC professional; and
Reduce chemical exposure by avoiding fragranced products (including air fresheners).
To reduce pesticides and pests:
Only allow children to eat food in the designated meal areas; 

Limit the use of food items for crafts and always store food items in tightly sealed glass or metal containers;
Fix all leaks promptly and remove standing water; and

Seal or caulk cracks and holes.
To clean safely:
Choose fragrance-free 3rd party certified (Green Seal, UL EcoLogo® or EPA's Safer Choice) cleaning products; and
Use cleaning products from pump bottles instead of aerosol cans.
Provider Support and Appreciation
The evidence is clear: early investments in children's health, education and development have benefits that compound throughout the child's lifetime, and benefit society as a whole. For every $1 invested in child care, the return (in health savings, tax benefits and other measures) is up to $12 (source). 
Ensuring that child care staff have the education, training and support to create safe and healthy child care facilities, free of environmental hazards, is essential. A big shout-out to all our eco-healthy endorsed providers. You are leaders and protectors of children's health. Bravo!
Inspired to plan your Provider Appreciation Day ® celebration? Sign up to be a supporter and get resources for your celebration.